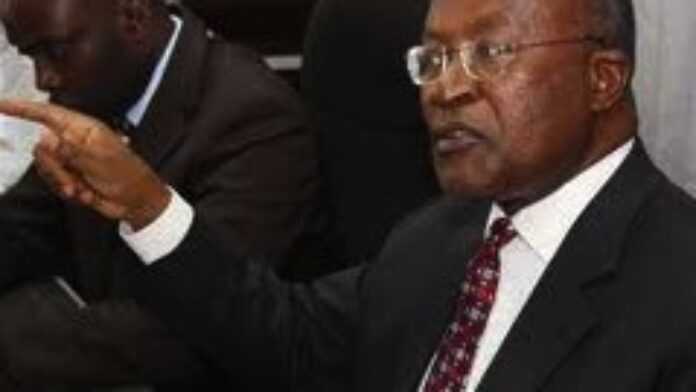 Resigning from his ministerial position as Uganda's minister of ethics and integrity, James Nsaba Buturo has called upon Ugandans to continue fighting against homosexuality and corruption.
Gays in Uganda have celebrated the resignation of outspoken anti-gay minister of ethics and integrity, James Nsaba Buturo, after the politician lost his seat in the February 18 general elections in the East African country.
Buturo, who stood as an independent candidate, attributed his failure to pro-gays in the country whom he accused of supporting his opponent in the party primary elections which he lost in December.
His term in office was supposed to end on May 15 when the current government is constitutionally expected to end and a new one sworn in.
"I am leaving when the balttle against prostitution and homosexuality is still
going on. I urge Ugandans to continue rejecting homosexuality," Buturo said in an interview with the press.
Buturo whose fight against homosexyality has been outstanding said that homosexaulity is not only anti-Ugandan but also anti-African.
"Homosexuality in Uganda and Africa as a whole is a taboo. How can a man sleep with a fellow man or a woman with a fellow woman. How can they produce children?" he asked.
The former minister attacked the western world for promoting homosexuality in Uganda and Africa saying that "if it is good and revered in their countries, they should not impose it on Ugandans or Africans in general."
"Good riddance. It is good that he has left office. He has been always attacking us and mobilizing Ugandans to hate us," said Keneth Kitti, a young Ugandan man who identifies himself as homosexual.
Anti-Gay Bill in Uganda
The Anti-Homosexuality Bill introduced in 2009 by MP David Bahati seeks to impose the death penalty on gay men who are HIV-positive for "aggravated homosexuality". In Uganda today, homosexuality is already a crime punishable by a prison life term. This proposed law would not only condemn HIV positive gay men and "repeat offenders" to death, it would also jail for three years anyone who knows a gay man but refuses to report them to the authorities. In addition to that, anyone who defends gay rights in public will be sentenced to seven years in prison.