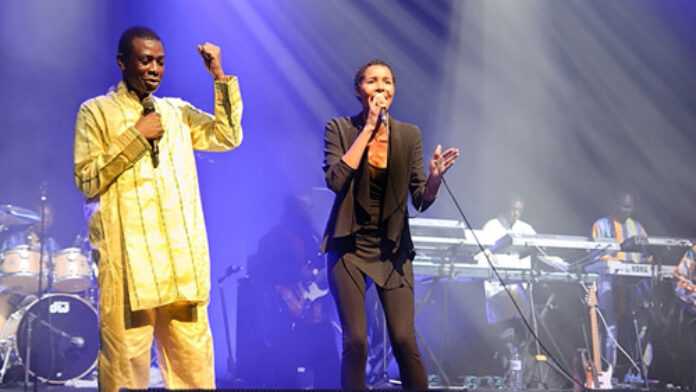 Five years ago, the famed Pompidou Centre in central Paris hosted Africa Remix, a far-reaching exhibition of modern artists from all across the Motherland. Present-day Africa came to life in a different way more recently at the Bercy Stadium sports arena, when thousands of African Parisians converged to see Senegalese star Youssou N'Dour live. The stately 51-year-old, certainly his continent's most famous living singer, turned out to be an unlikely sex symbol: 90 percent of the Bercy crowd were women, dressed to the nines for the occasion. High heels, buxom cleavage, boubou gowns, formfitting printed dresses and plentiful hair weaves were all on display in celebration of one man. For over four hours, N'Dour did not disappoint.
Concertgoers raised Senegalese flags as a Dakar tourism video played silently on two large screens past the stroke of nine. After some fleeting opening acts, N'Dour finally appeared in a flowing white African boubou. Backed by the 15-piece Super Etoile de Dakar band, he commanded a barrage of furious drumming, plaintive chants and call-and-response spectacle that kept Bercy on its feet all night long. Flipping from French to his native Wolof and occasional English, the bandleader held court till 1:40 a.m. like the mbalax version of George Clinton. (Mbalax is Senegal's own rhythmic fusion of soul, Latin, jazz and rock musics; N'Dour innovated and popularized its contemporary sound.)
If English is your only language, it's best to appreciate a Youssou N'Dour show like a jazz concert: purely for the music only, with vocals as just more instruments in the mix. Throughout the night, English speakers in attendance were thrown few bones. N'Dour and singer Neneh Cherry hit no.1 in France for months in the Nineties with "7 Seconds," and N'Dour served up a reggae version for the crowd. (The track, off N'Dour's 1994 The Guide [Wommat], features English, French and Wolof.) There were Bob Marley covers tossed in: "Redemption Song," "Africa Unite." Even Whitney Houston's bombastic "I Have Nothing" got the mbalax treatment by an anonymous chanteuse as N'Dour changed clothes. Still, the night was mainly for the French and Wolof speakers, who were out in droves (this being Paris and all).
With N'Dour backstage, Super Etoile de Dakar engaged in a booty bongo battle on par with any salacious hip-hop video. Two shapely African women in tastefully sexy dresses walked to the front of the onstage assembly, already the size of a rap entourage. To the beat of a Tama drummer's talking drum, the women shook their backsides in a competition judged by the roars of the audience. The lighthearted conflict was hot but never pornographic, a shade of distinction too often lost on crowds raised on rap video strip-club antics these days. The gluteus maximus as battlefield is an idea that stretches from the blues (Bobby Rush) to hip hop (Uncle Luke); it was interesting to see it brought back full circle to Africa.
Youssou N'Dour returned in another blue boubou, in time to join the crowd singing "Joyeux Anniversaire" ("Happy Birthday to You" sung with French lyrics) to the one-year-old daughter of his keyboardist. Then, more wicked riddims. As a complement to the booty bongo battle, two muscled men waged their own shakedancing war as the band played "Xarit." The dancers, like many others onstage over the four-hour show, capped off their gyrations with a final foot stomp—a grace-note gesture done simultaneously with the drummer's beat.
Bercy Stadium soon chanted "Mamadou!" at the tops of their lungs for guitarist Mamadou "Jimi" Mbaye during his soloing on "Tijuaniyya" (from N'Dour's Grammy-winning Egypt.) Mbaye—a virtuoso with two solo albums of his own—coaxed traditional African sounds out of his Stratocaster, imitating the 21-string harp-lute kora and the banjo-like xalam. Super Etoile de Dakar transitioned into the spirited "Mame Bamba" (an English-language single co-written by Mbaye and N'Dour), and sweaty young women got out of their seats again for even more dancing. A handful even jumped onstage, N'Dour leading them around like the Pied Piper of world music.
Senegal
Read latest news and features from Senegal : business, politics, culture, life & style, entertainment and sports