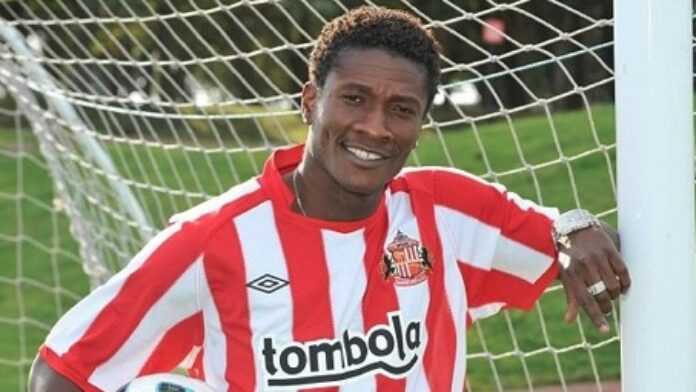 Ghana's love/hate relatioinship with Asamoah Gyan continues after his deftly spectacular equalizer against England at Wembley in a high profile friendly game that had Ghanaian supporters embarking on a sporting pilgrimage to witness a match that assumed an extra air of importance usually reserved for more crucial encounters. In fact, the level of importance attached to the game was so high that, Gyan's goal was met with a level of jubilation fit for a world cup triumph. Love him or hate him though, Asamoah Gyan deserves or rather has earned the right to be respected by all and sundry.
A player whose relationship with the Ghana national team, the Black Stars was severely strained by his woeful misses at the 2008 edition of the African Cup of Nations has risen from the debris of harsh criticisms to become one of the most celebrated strikers on the continent. So numerous were his detractors that, striker Gyan was ready to walk away from the national team. He however, marked his return with an outstanding performance in the subsequent edition of the Cup of Nations hosted by Angola where he emerged as Ghana's top scorer.
His redemption continued in South Africa as he maintained his excellent form in front of goal by scoring most of his team's goals at the tournament and once again became the top scorer for the Black Stars. Gyan's stint with sporting redemption however did not last. Once again it came to an abrupt, sudden and dramatic end when he missed the all important penalty that would have garnered a historic semi final berth for an African team at the World Cup.
Asamoah Gyan, Ghana's football hero quickly became a sporting villain for his decision to take the crucial penalty when more qualified players were available to do same. After his brilliant goal at Wembley however, his stock is on the rise again and as his musical collaboration with a local artiste Castro, continues to dominate the airwaves Gyan has successfully eclipsed Michael Essien, Ghana's most expensive and most talked about player as the most celebrated footballer in the country.
The nobility in the striker's topsy-turvy career though lies in his ability to rise from the ashes of failure to cement his dominance of the game where and when it matters most. His move to Sunderland from Rennes was a high profile one but is yet to set the team ablaze like his manager Steve Bruce would have liked. Gyan nonetheless, continues his fight to consolidate
the faith that Sunderland supporters and fans have reposed in him. It is the player's ability to remain resolute and focused as well as his capacity to compartmentalize incessant criticisms that have made him an endearing figure and a worthy role model for all his followers.
Like Stallone's beloved fictional boxer Rocky, Gyan's rise after he falls is proving to be an insight into how life is to be lived. Remarkably too, he does it all with a smile as if the failures as well as the successes are all part of a life lived in existential stoicism and like the dude in the Cohen brothers offbeat comedy the Big Lebowski, Gyan abides by whatever life has in store for him.
The striker's patchy rise to fame is a lesson to all of us for it is indeed refreshing to know that life's horrible punches don't necessarily have to knock us out. Asamoah Gyan has taken them and yet he still stands. Manhood in my estimation has never come in a better form.
The Other Afrik
The Other Afrik is an alternative and multi-faceted information source from Afrik-News' panel of experts. Contributions include : opinions, reviews, essays, satires, research, culture and entertainment news, interviews, news, information, info, opinion, africa, african-american, europe, united states, international, caribbean, america, middle east, black, France, U.K.