They are young and beautiful, just like the kennedys during their time. Barack Obama and his wife, Michelle, provoke a rebirth of the american dream. Profile of a possible "first black first lady" with an imposing personality.
It would be absurd to think that Michelle Lavaughn Robinson was sent on a mission to meet her future husband or even nourish the ambition of becoming america's first black first lady, when her boss charged her to supervise, one, Barack Obama. This was in 1988. In her own words, she found him, charming, handsome, easy going and with a good sense of humour.
The young lawyer was not indifferent to his former supervisors' magnetism "Most people who meet my wife admit that she is remarkable, much sooner than later. They are right: she is very smart, funny, absolutely charming and also very beautiful". This is how Barack Obama describes his wife in his book "the audacity of hope".
Destiny took its natural course. Michelle and Barack got married in 1992. The first of their two daughters Malia Ann was born in 1999 and the second in 2002.
Michelle was born on the January 17, 1964 to a modest family from South Side, Chicago. Her dad who suffers from MS worked for the water company whilst her mother worked in a bank. They had two children.
The first, Craig, is 16 months older than Michelle. When Craig was accepted to Princeton, the young Michelle said "and why not me ? I am more intelligent" "she hates to lose" says her brother. After Princeton, she made it to the prestigious Harvard university, where she did not feel entirely accepted as a black student. She later joined a law firm where she met the one whom she supports all the way in his bid for the white house.
In 1993, the young lawyer abandonned her big salary and opted for a job at the Chicago mayor's office where she became the head of the firm and also the vice-president of the university of chicago hospitals. She made a comfortable 325,000 per annum.
Michelle Robinson Obama, a reknowned attorney, is an influential figure among the local democrats and close to the mayor, Richard M. Daley.
She introduced Barack to the Illinois political scene where he built a solid network which helped him get elected to the State congress and the Senate in Washington. Thanks to Michelle, Barack developped a solid base in the Chicago black community and found a conducive atmosphere to raise their children. To this effect, Michelle could become the first african american first lady.
This woman who never for once dreamt of becoming a first lady, actively campaigns for her husband, Barack Obama. The decision, according to her was not an easy one to take. "the reason for this choice is because i cannot stand this fear anymore. I am tired of living in a country where all the decisions that have been made for the past ten years have been founded on fear. Fear of people who look different, fear of those who think and act differently, fear of each other. I do not want my daughters to grow up in a country and a world that thrive on fear".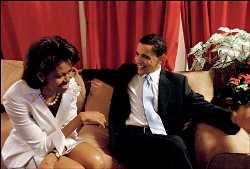 Michelle, has since been revealed to the world as a black "Jackie Kennedy". Tall and elegant in her tailored clothes, she has taken america by surprise, just like her husband. She is a real gift to the senator from Illinois. There is one handicup though: if white voters could only look beyond the colour line…, when she mounts the stage with their daughters, doubt is no more an option and the idea of a first black family in the 'White' house stirs unease among some.
There are also some black people who seem to doubt that white people will vote for a black president. "There is always this idea in our psyches" said Michelle in front of a black caucaus in South Carolina "because they always told us that it is impossible it is not your place. It is time to prove to our children that they too can achieve that dream". Michelle Obama as a first black first lady? The lawyer feels ready to take on the role "I am ready. I am what I am. I am just like that." She certainly isn't going to be an ordinary first lady.
Contrary to Bill Clinton whose 1992 campaign suggested "two for the price of one", she does not see herself in a preeminent role at the white house. "we talk about everything" Michelle said in a Time Magazine interview "but i am not his political counsellor. I am his wife."
For the time being, Michelle Obama enkindles admiration instead of animosity. Positive signs that encourage her to continue the fight.
By Eugène Yobouet for Spheremetisse.com
Translated by William Ghartey Mould