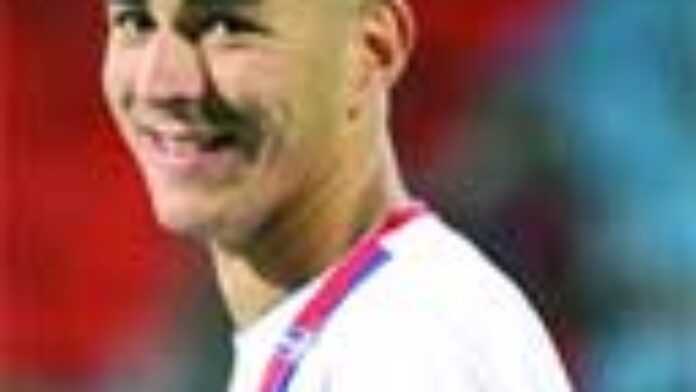 Karim Benzema said in an announcement Thursday that he would stay with Olympique Lyonnais (OL) until 2013, with an extra optional year. Olympique Lyonnais, the six time winner of the French premier league, did everything possible to keep the young striker and best scorer. His salary is now considered to be among the highest in french football…
Karim Benzema will be playing for Olypique Lyonnais until 2013, or 2014.
The 20 year old striker was all smiles when he told the press that "it is not unusual not to leave my club to develop in exile outside in Spain, Italy or the U.K… i am happy to continue with OL and hope to win lots of matches. My wish, which is in line with my career development, is to continue with OL despite all the proposals. For the time being, i am not considering moving to another club".
According to Foot Mercato, an internet site, a contract which amounted to about 300 000 or 400 000 euros was signed after extensive negotiations between OL and Karim Benzema who has been a member of the club since 1996. The best scorer of the premier league, hence, joins the likes of Djibril Cissé in the restricted group of best paid players in the french league.
"We did what we thought best to make Karim stay with Lyon. We did our level best to keep him from leaving for a foreign club. And he deserves it", Jean-Michel Aulas, OL president, said Thursday evening.
Clubs wooing Benzema
« We put in our maximum effort so as not to feel embarassed in comparison to other clubs », added Jean-Michel Aulas. Foreign clubs were at each others' necks for Benzama, who has been selected nine times for the national team with three goals to his credit.
France Football, another site, reports that some clubs were even ready to pay as much as 70 million euros for him before his contract was renewed in august for another two years.
In the final analysis, his love for his club won him over against prestigious clubs like, Manchester United, Arsenal, Chelsea, Real Madrid and FC Barcelona who had approached him. Thursday, Benzema said he is not thinking about leaving in the near future.
The question is: can he resist the tempting offers from the prestigious clubs trying to woo him until 2013?