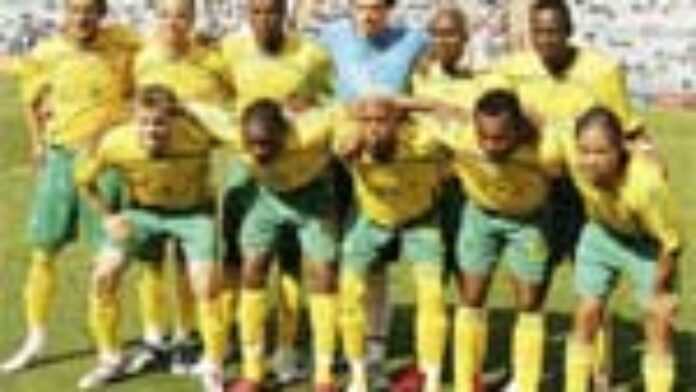 In efforts earmarked to better the discouraging performance of the South African national team,Bafana Bafana, the Minister for Sports talked about the government's plan to nationalize them. The plan is currently being studied by the national football association.
The South African Sports Minister finds himself in the middle of yet another controversy after his earlier suggestion that the South African rugby league should introduce a quota system. Last week, Makhenkhesi Stofile told the parliament that he wanted the retention of some fifty football players in preparations towards the next world cup in 2010 to be staged in South Africa.
Exclusive contracts
Makhenkhesi Stofile indicates that the players will be made to sign exclusive contracts after which the coach will have full rights over their training. During this two year period, they are not to play for their clubs, but would rather be training exclusively towards the World Cup. The selected players who are expected to be paid by the government would be tested on regularly basis against various local teams.
Makhenkhesi Stofile who is hoping the plan works Bafana Bafana, said that the idea which came up in 2005, draws its inspiration from a method used by the french national team, winners of the 1998 world cup. The South Korean team which picked up the bronze also used the same method in 2002 when it organised the world cup.
Reinforcing Bafana Bafana
Bafana Bafana, currently in the 71st position on the FIFA world classification, has suffered a great deal of setbacks in the past few years. They were eliminated in the very first round of the MTN 2008 African Cup of Nations in Ghana without a single victory to their name, while they failed to qualify for the 2006 World Cup in Germany.
Makhenkhesi Stofile's plan is currently being studied by the South African football association as well as the premier league division. According to the Minister, some club managers including financial sponsors are in favour of the Bafana Bafana project. The minister also announced last Sunday that his department is ready to release 400 million Rands (about 31 million euros) to train the national team.
A number of people have expressed their disapproval of the planned project saying that the government should not interfere with sports matters. Footballers like Benni McCarthy have indicated that, players have an obligation towards their clubs. This interferance risks attracting FIFA's attention, as well. Meanwhile, other professionals do not think this is a necessary option to safeguard Bafana Bafana from further embarrassment.