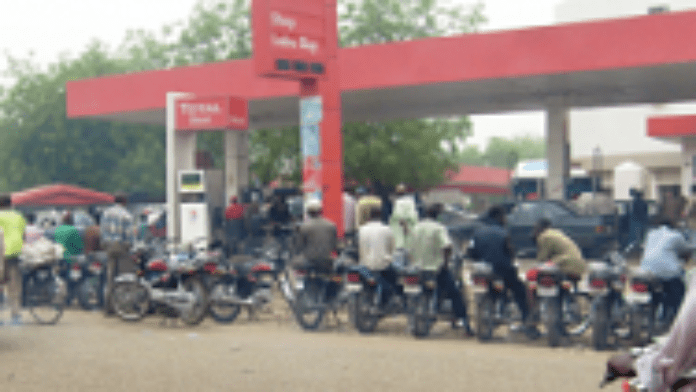 With massive fuel shortages in the north of Nigeria since mid March, transport costs have doubled exacerbating food prices.
"Until last week I had been paying 250 naira (US $2.00) to transport my produce but now suddenly I must pay 500 naira ($4.00)," Habibu Sani, a trader who transports vegetables from farms outside of Kano to sell in the city, told IRIN.
"This leaves me with no option but to increase the price of my goods," he said.
A cereal wholesaler in Kano said he too has increased his selling price. "We are calculating the new haulage fees we pay on each sack and add them to the cost," the merchant, Magaji Mohammed, said.
Bearing the brunt
Currently most fuel stations in Kano are closed and the few that are open have long queues of vehicles snaking down the street.
Many motorists have given up waiting and buy fuel on the black-market for around US $1.20 per litre – almost twice the pump price. Other motorists have simply stopped using their cars.
Consumers are bearing the brunt of fuel shortages in other ways. In Kano, many people who take the popular motorcycle taxies known as 'Achabas' say they can no longer afford the higher fares and the already inadequate public bus transport is overwhelmed.
"I missed school twice this week," secondary school student Ramatu Idris told IRIN, explaining that some buses passed but they were so crowded they didn't stop to pick up more passengers.
The reason the north has been so badly hit is that insufficient fuel is coming into the country from overseas, Sani Yau Babura, head of the northwest division of the Independent Petroleum Marketers Association of Nigeria (IPMAN) told IRIN. "When it arrives at the ports [in the southern cities of Lagos and Port Harcourt] most of it is distributed nearby and very little makes it this far north." He said, speaking in Kano.
Officially, government-subsidised fuel prices have not risen since June 2007 even though, despite being the eighth largest oil-exporting country in the world, Nigeria largely relies on fuel imports, the cost of which has risen dramatically around the world.
Why the shortage?
The government has said that the country's ailing oil refineries are being revived but officials admit they are still producing below capacity and well below the country's domestic needs.
But government officials told the Nigerian newspaper Business Day that the real problem is that IPMAM, which provides fuel to about 90 percent of filling stations in Nigeria, is hoarding fuel in anticipation of fuel price increases.
A representative of IPMAN denied the charge and put the blame on the government, particularly the Nigeria National Petroleum Corporation [NNPC], saying it was not providing sufficient imported fuel because it has not paid its debts for previous purchases.
Babura of IPMAN added that the government recently purchased quantities of sub-standard fuel which had to be returned. "This is what has made the current shortage so bad," he said.
Still people in Kano say IPMAN and other traders are not innocent. Many told IRIN that IPMAN diverts the fuel it gets from NNPC to the black market to get higher prices. "How else do you explain the availability of [back-market] fuel in jerry cans in front of filling stations while the fuel stations are empty," said Yusuf Abdullahi a motorist waiting in line for fuel.
IRIN