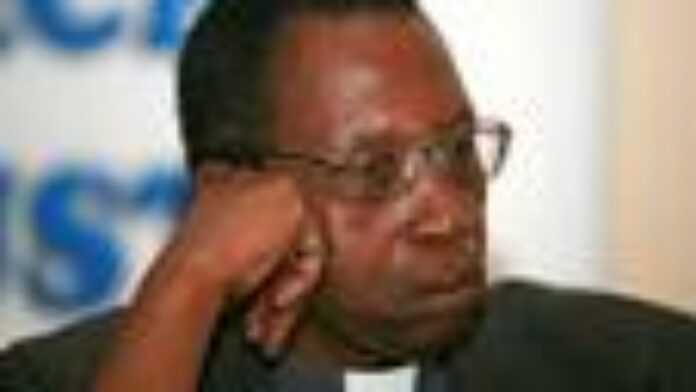 ROSEMARY Sibanda, the woman at the centre of the infidelity storm that engulfed the then Archbishop Pius Ncube, and eventually forced him to quit, died at Bulawayo's Mpilo General Hospital on Friday.
from our correspondent in Harare
Ncube, the former head of the Bulawayo diocese of the Roman Catholic Church and a vocal critic of Robert Mugabe's government admitted to the adulterous affair with Sibanda shortly before he was reassigned to the Vatican.
Rosemary, whose estranged husband Onesimus Sibanda is suing the former Archbishop for Z$5 trillion, accusing him of adultery, died just after noon on Friday.
Hospital authorities say she had been admitted on April 30 and suffered from pneumonia. "She looked very frail when admitted. We tried to save her life but it was too late" said one nurse at the state run but poorly equipped hospital.
Ncube is believed to have been informed. The prominent cleric was caught in a newspaper sting, believed to have been funded by government agents, after he was captured on secret camera planted in
his bedroom having sex with Sibanda and up to nine other women.
Monica Tshuma a close friend of Rosemary at St Mary's says she died a lonely woman, abandoned by both Ncube and her husband. " She was heartbroken" she says " Rosemary had stopped coming to church. She was now living a destitute life. She never used to get food like when Pius was still around"
Continued Monica friend " On day she told me how she regreated being used to cause the downfall of Ncube. She felt used by the government ass he got nothing from the deal but humiliation"
On Friday as the era of Mugabe's unbridled power come to a close , so too did the life of a little-known woman who shot to prominence in a dubious role as the mistress of a bishop who vowed to destroy Mugabe, but was himself destroyed by lust.
Ncube, who was sworn to celibacy, originally denied the allegations, but in February, he admitted the affair to Frontier TV, an independent film Production Company. "It is true," he said, "I do admit that I did fail in keeping God's commandment with regard to adultery. "Having failed in keeping the Seventh Commandment, 'Thou shalt not commit adultery,' I would like to apologise to you, I would like to apologise that so many of you were praying for me, for the fact that so many of you standing with
me suffered so much."
Zimbabwe's state media which sparked the adultery furore has printed claims by Onesimus Sibanda that his ex-wife infected him with HIV, which she allegedly contracted from Archbishop Ncube.
It also publishing lurid, grainy photographs of a man they claimed was Ncube, allegedly taken inside his bedroom with a naked woman. The court case is still before Zimbabwe's courts.