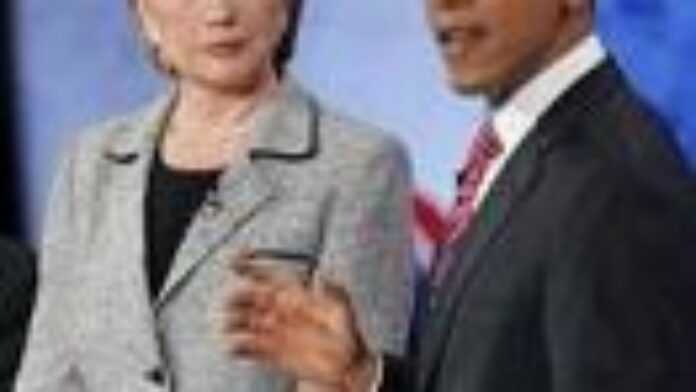 Barack Obama moved to the brink of the Democratic presidential nomination on Tuesday after a victory in the Oregon primary election that brought him within 100 delegates of the total needed to win the race.
By Andrew Ward in Washington
But Hillary Clinton won by a landslide in Kentucky and the former first lady insisted she would keep battling until the end of the primaries on June 3.
Tuesday's results appeared certain to leave Mr Obama with a majority of the available delegates from all the state primaries and caucuses – an important landmark that strengthened his grip on the nomination.
The Illinois senator, who is aiming to become America's first black president, stopped short of declaring victory but said the prize was "within reach".
Shifting his focus from the primary race to November's general election, Mr Obama heaped praise on Mrs Clinton and sought to reach out to independents and disillusioned Republicans.
"You are Democrats who are tired of being divided, Republicans who no longer recognise the party that runs Washington, independents who are hungry for change," he told a crowd in Des Moines, Iowa, where he secured his critical first victory in January.
Mrs Clinton said she had not given up hope of the nomination but vowed to work with Mr Obama to help beat John McCain, the Republican candidate, whether or not she wins the race.
"While we continue to go toe-to-toe for this nomination, we do see eye to eye when it comes to uniting our party and electing a Democratic president this fall," she told supporters at a victory rally in Kentucky.
Mrs Clinton beat Mr Obama by 65 per cent to 30 per cent in Kentucky, while In Oregon, Mr Obama led by 58 per cent to 42 per cent, according to news agencies.
Mr Obama needed to win just 15 of the 103 delegates up for grabs in Kentucky and Oregon to gain a majority of the 3,253 available nationwide.
He is also leading among the nearly 800 Democratic officials, known as "superdelegates", whose votes look likely to decide the contest.
Mrs Clinton argued that the Mr Obama's advantage would be much slimmer if her victories in the disputed Florida and Michigan primaries were counted.
Both states were stripped of their nominating delegates by the Democratic National Committee for breaking party rules governing the scheduling of their primaries.
Mrs Clinton said she had won more votes than Mr Obama if Florida and Michigan were included and vowed to keep fighting to restore the states' delegates. "I'm more determined than ever to see that every vote is cast and every ballot is counted," she said.
Democratic officials are scheduled to meet on May 31 to decide how to resolve the dispute surrounding Florida and Michigan.
Mrs Clinton's victory in Kentucky highlighted her strength among the white, working class voters who dominate that state and reinforced doubts about Mr Obama's ability to win support among that group in the general election.
Kentucky is similar in nature to neighbouring West Virginia, where Mrs Clinton last week won the state Democratic primary by 40 percentage points.
Two thirds of Clinton supporters in Kentucky told exit pollsters they would not vote for Mr Obama in November, with 41 per cent prepared to support John McCain, the Republican presidential candidate, while 23 per cent would stay at home.
Kentucky is one of the more conservative states in the US, with only a third of voters describing themselves as liberal. Oregon, in contrast, is among the most liberal, with almost six in 10 voters identifying with that label.
Both of Tuesday's contests were so-called "closed primaries" open only to registered Democrats. The remaining primaries take place in Puerto Rico on June 1 and South Dakota and Montana two days later.