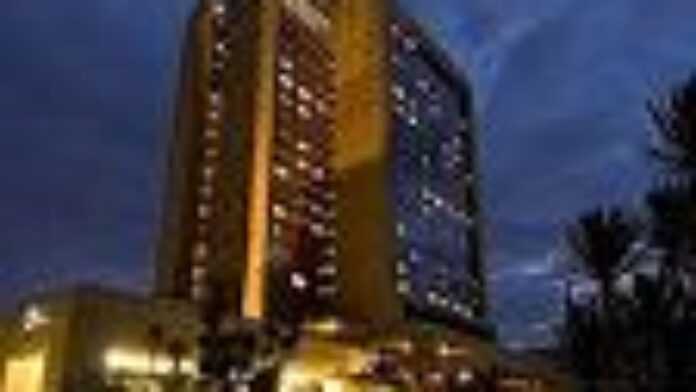 The Southern African Development Community (SADC) observer mission in for Friday's run-off here have been accused of "spending loads of time locked up in their hotel rooms". In Harare, they are booked at the five star Rainbow Towers and at Rainbow Hotel in Bulawayo..
A visit to the hotel Tuesday revealed that a they were enjoying themselves on their tour of duty. Several Hotel workers speak of massage parlous being fully booked and the observers taking over the Gazebo bar as well as the sate of the art gym.
Disappointment
A manager at the hotel says the massage parlour and the gym were fully booked mostly by the SADC observer mission. " Its routine, these so-called observers go for breakfast then have a small meeting leave the hotel but come back before 4 pm.They have been doing this since they checked in some two weeks ago" She said, this was a similar thing for the March 29 elections. She said she wonders what they would write in their reports. "I often see them again glued to their laptops and just wonder what they would be writing. Maybe they would be reading online stories on Zimbabwe by journalist in South Africa on what is happening here"
A director with a civil organizations tells a same story. "They guys a just driving around during the day but in the evenings, when Zanu PF thugs are on the loose, they will be sipping whisky in the hotel bars" "They behaving as people on holiday," he said.
Observers strongly disagree
Asked why they spend much of the time in hotels, they said they are waiting to be deployed to different districts. They where hanging around hotels because they were dependent on the Robert Mugabe government to take them around.
Also they were warned to operate within the confines of the law, they claimed. But observers have diplomatic status, and according to Zimbabwe's laws, diplomats cannot travel more than 40 kilometers from major cities without informing the authorities.
Mugabe calls the shots
They said although they have heard and seen acts of violence on foreign TV news channels, they had yet to come across any because they weren't sure where they were being taken. Said one observer from Botswana ' What can we do on our own? We can't go anywhere on our own .We are operating in very hostile terrain here" She said the government drivers are taking them to ' peaceful places only'
"It would have been a lot easy if the media was free because maybe we could have asked journalists to take us around. but they are also scared."
Given this scenario, they have to read the state run newspaper's and watch ZTV to see that the playing field is not even, they say. 'It would have been good for us to see some of these things for ourselves instead of depending on hearsay and what we read and watch for compiling a report"
Yesterday, doctors said the true death toll in the campaign of terror being led by Mugabe's government is close to 500.
The estimated number of killings had been thought to be 86 but new evidence collected from rural areas witnessing the worst of the intimidation has prompted a five-fold increase in the tally.