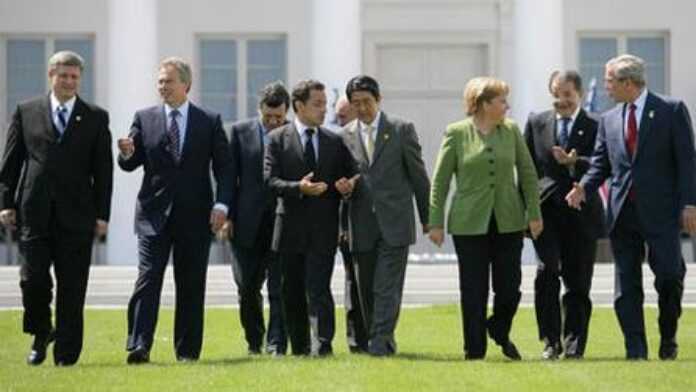 The world food crisis "threatens to destroy years, if not decades, of economic progress," the Africa Progress Panel said last week, prompting its Chairman Kofi Annan, Bob Geldof and Bono to call on rich countries to to honour their commitment of doubling aid to Africa by 2010. But more aid will not solve the problems that make poverty perpetual.
by Caroline Boin & Alec van Gelder
Annan and the self-appointed aid ambassadors are right about one thing: rising food prices and failed harvests are horrible. Achieving food security in Africa remains one of the world's most important humanitarian objectives and the first Millennium Development Goal is to "eradicate extreme poverty and hunger" and halve the number suffering from hunger by 2015.
But the development industry is betting on the wrong horse when the UN Food and Agriculture Organisation demands that "rich countries dramatically ramp up their aid for agricultural development to curb rising food prices," to meet commitments made at the G8 meeting in Gleneagles two years ago.
Corrupt gov'ts using famine stricken pictures
The images of starving children have been brought to us by corrupt and incompetent governments supported by aid.
Aid is now the biggest source of revenue for most sub-Saharan African governments–more than 50 per cent of budgets in some cases.
The results are shocking. Even though global food production has outstripped population growth by 50 per cent in the last 40 years, a full third of African children suffer from malnutrition in the first five years of their lives.
The Commission on Nutrition Challenges in the 21st Century reported that during the Nineties malnutrition fell by two-thirds to 10 per cent in East Asia and halved in Latin America. In Africa it increased by 20 per cent.
Aid money for arms and personal accounts
A recent UN Food and Agriculture Organisation conference in Nairobi estimated that, in the past decade alone, 20 per cent of African government budgets have been used for "military hardware and other unnecessary luxuries." Unnecessary luxuries include Congo President Denis Sassou-Nguesso's hotel bill of more than US$300,000 and his US$7 million on Parisian homes for his wife and son. Yet activists and President Sassou-Nguesso continue to call for debt-cancellation and more aid.
After $2.3 trillion (adjusted for inflation) in aid since the 1960s, most of the 70% of Africans who live off the land have falling incomes and life expectancy, while Asian countries that got little or no aid have prospered.
Trade restrictions
Improving the world's least productive agricultural sector is a moral imperative and a great way to kick-start economic development. Relying on food handouts–when available–is a particularly ineffective way to help Africans when you look at the alternatives.
A better and immediate solution would be to remove the world's most crippling trade barriers–70 per cent of which are imposed by governments in less-developed countries, including on food: the average tariff on agricultural goods in sub-Saharan Africa is 33.6 per cent, the highest of any region. Additionally, taxes and tariffs restrict access to essential inputs such as fertilizer, making it six times more expensive in Sub-Saharan Africa than the basic price.
Removing these trading restrictions would bring in more money than all aid, World Bank figures show.
As Ethiopia faces another famine, the World Bank ranks it 112th in a rising list of 125 countries' tariff restrictions.
The World Food Programme estimates at least 10 million people will be hurt by rising food prices and Ethiopia's failed harvest this year: Ethiopia, unfortunately, has kept many of the self-defeating policies that have blighted Africa, with the support of aid agencies, Western government and NGOs.
Despite moves to free the economy, all imports still require licences, cereal exports have been banned, state companies manipulate prices and, above all, the government prohibits land ownership, so the poor are chained to the land but cannot use it as collateral for loans. This pushes fertilizer or hybrid seeds further out of reach and makes farmers vulnerable to droughts, heavy rains and pests.
Totalitarian Ethiopia digs in
Bono, Bob Geldof and Kofi Annan tug at the heartstrings of people who rightly want to help but they don't mention that totalitarian Ethiopia is already one of Africa's biggest aid recipients, that it runs a Stalinist compulsory re-location scheme for millions and that things are worse since Band Aid first hit the world's conscience in 1984. Annual per capita food production dropped from 450 kgs to 140 kgs between 1984 and 2002 and has scarcely improved since.
Reform won't happen because the government is more accountable to donors than its own people–and donors hardly hold recipients accountable.
To really help the world's poor, the G8 countries meeting in Hokkaido next month must insist they get the same economic freedoms as people in countries that are actually developing: the right to own and sell land and the right to trade with each other. Without those freedoms, more aid is yet more good money after bad.
Alec van Gelder is Network Director at International Policy Network, a development think-tank in London, where he specialises in trade, technology and intellectual property. Caroline Boin runs IPN's Environment Programme.