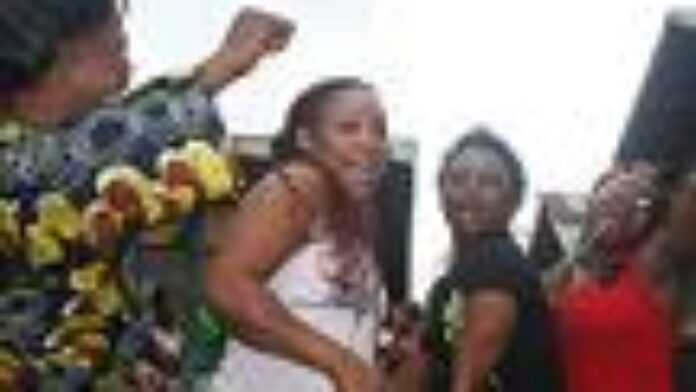 Idris is a pimp and makes no bones about it. Because of the way the sex industry works in Nigeria's northern city of Kano, he and the women he pimps have a co-dependant relationship – they exploit each other.
Kano's history dates back 1,400 years as an iron-working centre that adopted Islam in the 14th century and grew on the back of the trans-Saharan caravan trade.
Outside the old city walls is a quarter known as the sabon gari, where "foreigners" traditionally lived, segregated from the Hausa-speaking indigenous population. With sharia law applicable in Kano, it is in the bars and hotels of the sabon gari – where Islamic jurisprudence does not reach – that Idris does his business.
He works with a group of Hausa-speaking women from all over the north who live in a dingy, nameless hole-in-the-wall hotel, whose anonymity seems deliberate. Quarrelsome, poor, with some clearly on something narcotic, these are women at the edge of society.
As they prepared for the evening, applying henna to their hands and feet, cleaning their rooms, getting stoned, Idris explained that his role was to guide the "big fish" to the establishment, and sometimes act as muscle. He gets tipped by the women, maybe gets fed if they feel sorry for him, or he has a girlfriend among them, but the money they make is theirs alone.
It is not that much. They pay N450 (US$4) a night for the rooms and share blocked toilets downstairs, having to burn incense to cover the smell, and charge around N300 (US$2.60) for sex – an amount whispered out of earshot of Idris and the other pimps. While a "big fish" in the capital, Abuja, or the commercial metropolis, Lagos, might shell out N150,000 (US$1,300), here a serious score would be N15,000 (US$130) – and it doesn't happen often.
"There is a religious/cultural dimension; they are outcasts from their families and find succour in drugs: ruffies [Rohypnol, a date-rape drug], Benzedrine [an amphetamine], cough syrup," explained Salamatu Da'u, behaviour change communication coordinator in Kano of the Society for Family Health (SFH), a Nigerian AIDS service organisation that had just begun working at the hotel.
Kano, Nigeria's second largest city, has an HIV prevalence rate of 3.4 percent – just below the national average of 4.4 percent – but among brothel-based sex workers it hits 49.1 percent. In a six-state behavioural survey by the federal ministry of health, Kano's brothel-based sex workers were the least able to correctly identify ways of preventing HIV transmission, and the least likely to use condoms with their customers.
The stories of the women working out of the brothel in the sabon gari were almost identical: divorced, or running away before being forced into marriage, hoping one day to find somebody to settle down with. "I come from a religious family and I know what I am doing is a sin, but I pray every day for God to create an opportunity for me to leave this business; not just me, but all the girls," said Fatima Danjuma*.
Married young
In the north, the pressure on girls to get married begins almost as soon as they start menstruating, said Da'u. "Ï grew up with it. The idea is sold to you from six or eight; it's a way of life. The girls see it as a rite of passage: 'soon I'll be on my own', independent, grown up." But the sacrifice is education, and the chance of real independence that it can deliver.
According to the Population Council, an international reproductive health organisation, 45 percent of girls in northern Nigeria are married by the age of 15, and 73 percent by age 18. The "vast majority" of child marriages are arranged by families, to husbands 12 years older than their wives on average.
"Men made the vast majority of decisions in the household, regarding not only major life issues such as large purchases, but also more mundane matters such as daily purchases and meals. Sexual debut was often unwanted and traumatic for these young brides," the Population Council's website noted.
The vulnerability of the girls is magnified by the high divorce rate in Kano, a commercial city where a new bride can be a status symbol for a man. "A girl can be married at 12 and divorced at 18, with children to support," said Da'u. "The way you change a car is the way you change a wife in Kano. You give birth to a few children and you can find yourself divorced for the slightest excuse."
That creates a class of young women who are likely to have limited schooling, possibly living at home again – with all the tension that entails after running their own household – and expected to earn an income. Typically, this means petty trading on the streets, selling food, cosmetics or small items, while waiting for suitors; but it can also shade into sex work, in a region where condom use is exceptionally low.
"The north is a very traditional place; to make inroads you must work with traditional religious leaders," said Kene Eruchalu, SFH's national head of behaviour change communication. "What we don't have yet is many traditional leaders coming out to promote condoms. A number of them have come to terms with the fact that people are having sex, and we're thankful that we've had some kind of silent support which hasn't opposed the intervention."
Sheikh Zachery Adam says he is "deeply involved in the fight against HIV/AIDS" and, through a local association that meets one a month, supports the use of condoms for men who cannot abstain from sex or remain faithful to their wives. "I don't jump to conclusions, only God will judge who goes to hell or heaven," he said.
Kamalu Ibrahim, head of the local Koranic school, politely waited until the sheikh had left the room before offering his opinion. "Islamic laws are rigid, no matter the situation. There can be no sexual intercourse unless you are married; [rather than using condoms] the only solution [to sexual urges] is to marry young."
* Not her real name
IRIN
Prostitution
Alerted on the subject of prostitution among Africans, a growing trend in Europe and Africa, by various groups, Afrik decided to react. The following articles highlight not only testimonies on female prostitution but also child and male prostitution.