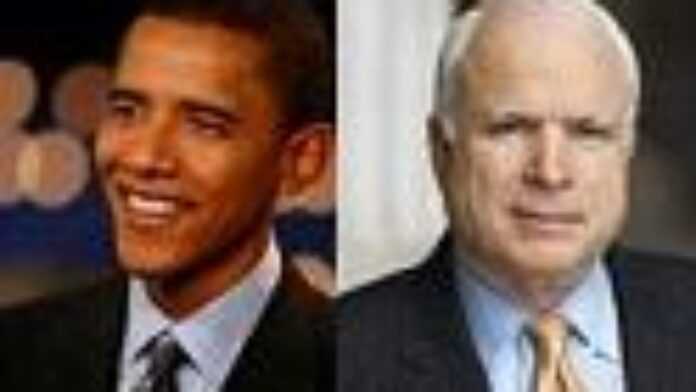 A new TV advertisement by Barack Obama on Friday mocked John McCain as an ageing and out-of-touch Washington insider as the Democrat fought to halt the surge of momentum behind his Republican rival.
By Andrew Ward in Washington
The commercial, which shows images of Mr McCain wearing an old-fashioned suit and thick-rimmed glasses at a congressional hearing in 1982, highlighted the rapidly souring tone of the presidential race as Mr Obama faces pressure from Democrats to hit back harder against Republican attacks.
"Things have changed in the last 26 years, but McCain hasn't," says the voiceover, as two-decade-old images of the Arizona senator are interspersed with pictures of outdated computers, a brick-like mobile phone and a disco ball.
The commercial was designed to undercut efforts by Mr McCain to hijack Mr Obama's "change" message by portraying himself and Sarah Palin, his running mate, as maverick reformers who would shake up Washington.
Obama officials denied the 1980s imagery was designed to stir concern about Mr McCain advancing age – he turned 72 last month and would be the oldest first-term US president – insisting its focus was the senator's long history in Washington.
But the commercial highlighted the senator's recent admission that he does not use e-mail and relies on his family and staff to operate a computer.
"He admits he still doesn't know how to use a computer, can't send an e-mail, still doesn't understand the economy, and favours $200bn in new tax cuts for corporations, but almost nothing for the middle class," said the voiceover.
The advertisement shows pictures of Mr McCain riding in a golf cart with former President George H.W. Bush and standing beside the current President Bush at the White House, casting him as a creature of the Republican establishment who would continue Bush administration policies.
"After one president who was out of touch, we just can't afford more of the same," the voiceover says.
The commercial represents an aggressive response by Mr Obama to a series of recent Republican attack advertisements against him.
Mr McCain struck arguably his lowest blow of the campaign this week with an advertisement portraying Mr Obama as a radical liberal who favoured sex education for kindergarten children.
The attack was a distortion of Mr Obama's support for measures to inform children about the risks posed by sexual predators.
Some Democrats have complained that the senator has not shown enough anger about the Republican attacks, drawing parallels with John Kerry's initially sanguine response to the "Swift Boat" assault on his war record during the 2004 campaign.
However, getting sucked into a negative battle with Mr McCain carries risks for Mr Obama because of his promise to bring a new style of politics to Washington.
Democrats are desperate to shift attention back to the troubled economy and other policy issues that favour Mr Obama after a fortnight dominated by Mr McCain's choice of Ms Palin as running mate.
In her first interview since joining the Republican ticket, Ms Palin, the governor of Alaska, told ABC she had the judgment to be vice-president and struck a hawkish tone on national security by saying war might be unavoidable if Russia invaded a Nato ally.