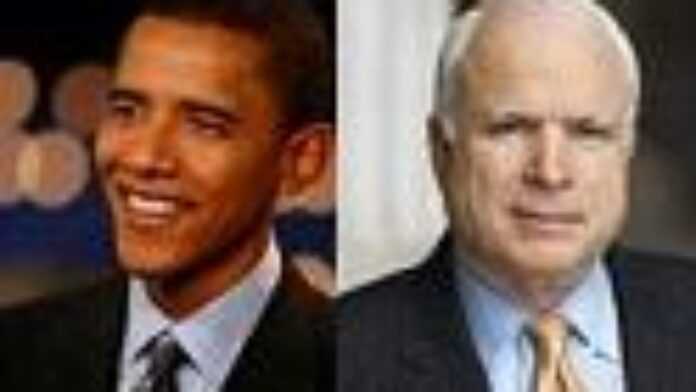 John McCain and Barack Obama clashed over Iran, Iraq and the economy in the first televised debate of the US presidential election after the Republican candidate dropped his threat to boycott the event.
In the long-awaited encounter between the two men, Mr McCain attacked Mr Obama's foreign policies as "naïve and dangerous" while Mr Obama accused his Republican rival of continuing the economic policies of George W. Bush and sought to connect with the problems of ordinary voters.
But, despite the barbs traded in the debate, the two men set out a series of policies that were sometimes close to each other in substance, with notable exceptions, among which tax and spending policy was particularly prominent. Indeed, on the topics of Iran and energy policy, the two men appeared to shift positions closer towards each other.
In a CBS News poll of uncommitted voters who watched the debate, 39 per cent thought Mr Obama won while 24 per cent considered Mr McCain the victor. In a Fox News focus group most viewers said Mr Obama had emerged the winner.
"So let me get this right," Mr McCain said to Mr Obama, criticising the Democratic nominee's policy on Tehran's nuclear programme. "We sit down with [Iranian president Mahmoud] Ahmadi-Nejad and he says 'we're going to wipe Israel off the face of the Earth,' and we say, 'No, you're not.'" Mr Obama countered that one of Mr McCain's advisers, the former Secretary of State Henry Kissinger, endorsed his own policy of negotiations with Iran without preconditions.
But Mr McCain indicated he was not opposed to meetings with Iran at the Secretary of State level – a position that is more open towards negotiations with Tehran than he has taken in the past.
In a series of exchanges on Iraq, Mr McCain insisted that Mr Obama had displayed poor judgment in opposing the US troop surge in the country, while the Democratic nominee accused his Republican rival of making an error in supporting the war at the beginning.
"You said we knew where the weapons of mass destruction were," Mr Obama said. "You were wrong. You said that we were going to be greeted as liberators. You were wrong. You said that there was no history of violence between Shia and Sunni and you were wrong."
Mr McCain attacked Mr Obama as "naïve" for advocating unilateral US strikes on al-Qaeda and Taliban targets in Pakistan if the country's government was unable or unwilling to help. "This area on the border has not been governed since the days of Alexander the Great," he said. "It's got to be a new strategy – the same strategy that he [Mr Obama] condemned in Iraq – that's going to have to be employed in Afghanistan. And we're going to have to help the Pakistanis go into these areas and obtain the allegiance of the people and it's going to be tough."
Mr Obama sought to highlight his concern for the average American and attempted on a number of occasions to bring the debate back to the economy.
"What the next president has to do and .. this is part of how we are going to keep America safe, is to send a message to the world that we are going to invest in issues like education; we are going to invest in issues that relate to how ordinary people are able to live out their dreams," he said in his closing statement.
In a refinement of his own position, Mr Obama said he favoured increasing domestic oil production and drilling "to deal with many of the rogue states we've talked about", such as Iran and Venezuela. But he added: "We only have 3 per cent of the world's oil supplies and we use 25 per cent of the world's oil, so we can't simply drill our way out of the problem."
This week the Democratic party allowed a Congressional ban on offshore drilling to expire – a ban Mr Obama had supported – in a reverse of previous policy.
While both candidates were reluctant to specify their positions on the continuing negotiations on the Bush administration's plans for a $700bn rescue package, they assailed each other's tax and expenditure policies.
Mr McCain emphasised his call to reduce government spending, saying that in the light of the current crisis, the administration could consider a spending freeze on everything except defence, veteran affairs and entitlements.
"What we have to do is get spending under control in Washington… We've let government get completely out of control,"he said. Striking a populist note, he added: "Main Street is paying a penalty for the excesses and greed in Washington DC and in Wall Street," adding "We have to fix the system".
But while Mr McCain criticised Mr Obama for his spending plans, the Democratic nominee accused his Republican rival for continuing the economic policies of George W Bush.
"When you look at your tax policies that are directed primarily at those who are doing well and you are neglecting people who are really struggling right now, I think, that is a continuation of the last eight years, and we can't afford another four," he said, addressing Mr McCain directly. He attacked what he said was the Republican philosophy of "the market on its own can always solve everything."
Both candidates said that the Bush administration's rescue package needed to be altered to address issues such as oversight, but that intervention of some sort was necessary. Mr McCain skirted clear of giving a full explanation of his announcement earlier in the week that he would not attend the debate without agreement on the package, or on his subsequent reversal of position.
But the Republican nominee gave an optimistic picture of how negotiations had progressed since a high profile breakdown at a White House meeting the day before. "We have finally seen Republicans and Democrats sitting down together," he said.
The debate followed a tumultuous week of wrangling over the government's proposed bail-out, distracting both candidates from preparations for the first of three face-to-face showdowns before November's election.
The first debate is traditionally one of the most important moments in a presidential race but this year's opener at the University of Mississippi in Oxford has been overshadowed by the turmoil on Wall Street.
Mr McCain had faced the greatest pressure heading into the debate after enduring a rocky week as Mr Obama widened his lead in opinion polls amid the deepening economic gloom.
The Democratic candidate also faced a challenge to overcome doubts about his experience on foreign policy and national security.
Mr McCain tried to burnish his leadership skills this week by suspending his campaign and returning to Washington to focus on the financial crisis.
But Democrats accused the Arizona senator of disrupting negotiations over the bail-out and playing politics with the crisis.