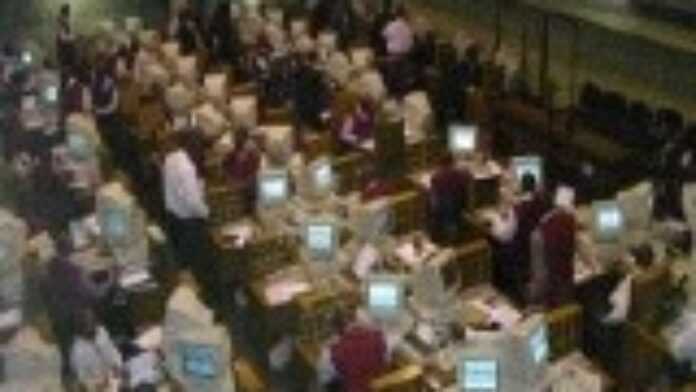 Some visiting foreign investors, including top flight fund managers from South Africa, United States and the United Kingdom, have expressed their confidence in the Nigerian Stock Exchange (NSE), which has recently been experiencing bearish trends.
"It is a very interesting visit. We are glad to see the 1% maximum downward limit on daily price movement removed. We have come to find out what is happening. We are happy with what we saw," Peter Thomson of the Correlation Fund Managers in South Africa said after observing proceedings at the Stock Market. "The 1% was a problem for us. Now that it has been removed, we will come back. We have great confidence in the exchange," he said.
The capital market has lost more than 649 billion naira this month alone and some 4 trillion naira in the past five months (US$1=118 naira). This forced many fund managers to embark on a massive withdrawal of investments, especially against the backdrop of the liquidity crunch in the United States and some European markets.
Thomson said his team planned to invest in the Banking, Food/Beverages and other interesting sub sectors of the market. "There (are) great potentials here which we hope to tap. With what we have seen, we would be able to come back to invest with confidence," he assures.
In the wake of the crisis at the capital market, stakeholders introduced a number of measures to stabilize the market. One of them being the reduction to 1%, from 5%, the maximum downward limit on daily price movement, while the 5% limit on upward movement was retained.
Also, for any company shares to make the gainers or losers price list, no fewer than 100,000 units of shares must have changed hand. However, after nearly a two hour deliberation between the visiting investors and NSE Director General Ndi Okereke-Onyuike, it emerged that companies only need to trade 50,000 units of shares to be able to make the gainers and losers table.
The NSE boss described the visit of the investors as a manifestation of their confidence on the capital market. Panapress