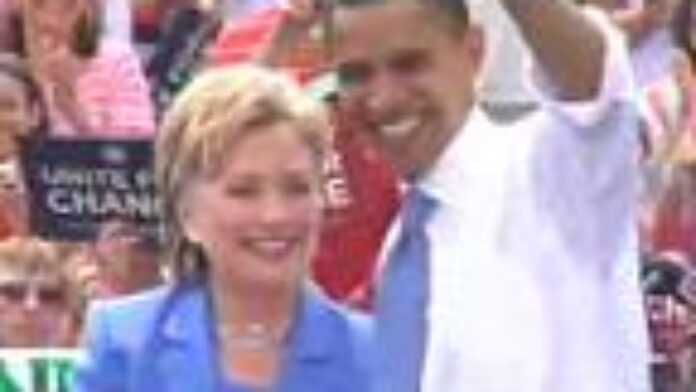 Hillary Clinton has emerged as a surprise contender to become secretary of state in Barack Obama's administration, months after the pair fought a bitter battle for the Democratic presidential nomination.
A spokesman for Mr Obama's transition team declined to comment on Thursday evening but speculation was rampant in political circles that Mrs Clinton was under serious consideration for the job.
As one of America's best-known and most respected politicians, Mrs Clinton would be a high-profile choice for the role of chief US diplomat.
The senator for New York has developed a hawkish reputation on foreign policy as a member of the Senate Armed Services Committee.
She frequently criticised Mr Obama during the Democratic primaries for his relative inexperience and alleged naïvete on national security.
But she rallied strongly behind her former rival after he won the nomination and campaigned tirelessly for him in the closing weeks of the campaign.
Her appointment would signal Mr Obama's willingness to co-opt his political rivals and help heal lingering divisions among Democrats after the protracted primary race.
Many Clinton loyalists were angered that Mr Obama did not seriously consider her as running mate, opting instead for Joe Biden, another Democratic senator and former presidential rival.
Mrs Clinton insisted as recently as Monday that she expected to remain in the Senate – but added she wanted to be a "good partner" to the Obama administration.
An offer to become secretary of state would confront her with a choice between one of the most plum jobs in international politics and the promise of an increasingly powerful role in the Senate.
Until Thursday, the frontrunners for the secretary of state position were generally thought to be John Kerry, the Massachusetts senator and 2004 presidential nominee, and Bill Richardson, the New Mexico governor and former ambassador to the United Nations.
As the most high-profile Latino in US politics, Mr Richardson is being pushed aggressively by Hispanic groups, who are demanding recognition for their important role in helping Mr Obama become president.
Other candidates include Chuck Hagel, the moderate Republican senator for Nebraska and fierce critic of the war in Iraq, and Richard Holbrooke, another former UN ambassador.
NBC, the television network, and Politico, the political news website, were among those reporting that the New York senator was in contention for the job, quoting unnamed Obama advisers.
Mrs Clinton reportedly flew to Chicago, where Mr Obama's transition team is based, on Thursday but aides insisted she was there on personal business.
Obama officials had previously said that no high-level cabinet appointments would be announced this week and they insisted last night that there were no changes to that plan.
Mr Obama has said he will not be rushed into choosing his cabinet and senior officials. So far, his only high-level appointment has been Rahm Emanuel as chief of staff.