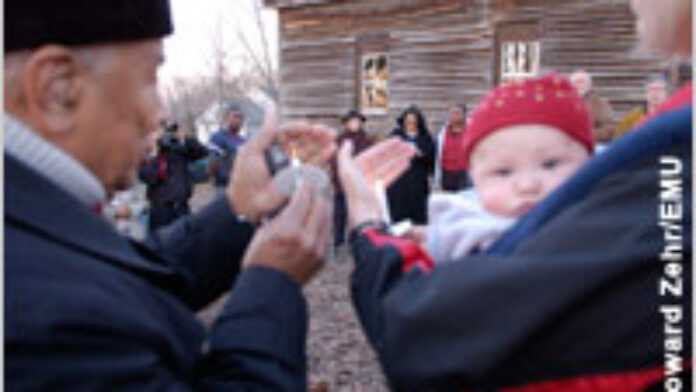 Woodstock, Virginia, resident Phoebe Kilby suspected there was a connection between her white family and the black Kilbys who lived in nearby Front Royal. After confirming through research that her family had once owned the ancestors of the Front Royal Kilbys as slaves, she decided to make contact with Betty Kilby, an African American, and begin a dialogue as a way of personally addressing what some describe as America's original sin: African slavery.
At the Eastern Mennonite University in Harrisonburg, Virginia, where she works as associate director of development at the Center for Justice and Peacebuilding, Phoebe discovered the program Coming To The Table (CTTT), an initiative by descendants of slaveholders and descendants of enslaved people to connect with each other, share their histories and discuss the legacies of slavery, including race relations. The program takes its name from a speech by civil rights leader Martin Luther King Jr., who envisioned a day when "the sons of former slaves and sons of former slave owners will be able to sit down together at the table of brotherhood."
Program director Amy Potter told Africa News Report that CTTT began when the university's grounds supervisor, Will Hairston, a descendant of one of the largest slaveholding families in Virginia and North Carolina, approached her with his experience of participating in the black Hairston family reunions. He was surprised at how warmly he was received, but through further conversations began to understand the personal pain that was left over from the past. At that time, Potter worked with EMU's Strategies for Trauma Awareness and Resilience program and saw how, through relationships like the Hairstons', it was possible to address the inherited trauma of slavery.
"As time went on, people would call me who had heard about this and knew they were descendants of a slaveholder. … [They] realized that they had identified descendants of the people their family had enslaved and wanted to get in touch with them. So I and the other people who were involved talked them through the process," she said.
History can be unknown and unwanted
Potter says CTTT participants "have acknowledged the history and faced the difficult issues. They are interested in a relationship with each other, and they are enjoying being in a relationship with each other."
Other Americans become angry at the idea of revisiting the past. "If it honestly was dead and in the past … they probably wouldn't be too upset about it," and would instead be merely uninterested, she said.
Most have little or no idea that slavery or slaveholding is a part of their family history, especially if they have moved away from ancestral homes. Information might have been lost or omitted due to shame or a simple lack of curiosity.
Phoebe Kilby told Africa News Reoprt that when she asked her father about the black Kilbys living nearby, he insisted there was no connection. She said that on Betty Kilby's side, "her grandparents wouldn't talk about it. … It was a source of shame. Her father suspected, but was afraid to look."
Phoebe researched court records and discovered proof of the relationship. When she found contact information for Betty in 2007, she wrote an e-mail. "My name is Phoebe Kilby, and I am white. … I suspect that our families had a relationship in the past." The reply from Betty was positive. In the subject line, Betty wrote "Hello cousin."
But Betty had to do some soul searching, Potter said. She had experienced racism from whites and been targeted as one of the first African-American schoolchildren to integrate Front Royal's public schools in the 1950s. Betty wondered what her ancestors would think of the contact. "It wasn't until she really thought about her grandmother and her father, what they taught in their life, that she realized they would have been OK with it, and that was a step that she needed to go through mentally in order to meet Phoebe," Potter said.
Confronting the past helps unite the nation
Although an initiative may be refused or ignored, Potter said, many people attempt to connect because they want to learn more about their ancestors.
Confronting the past is not easy. Rape could be a component of slavery, as evidenced by many lighter-skinned descendants of slaves. "What do you do with that? That's not easy when you've created this reality about your family, that they're good people and just like you," Potter said.
Phoebe said much of the brutal reality of slavery has been covered up. "But it was there, and it wasn't that long ago."
Betty and Phoebe now speak in seminars together to share their stories and their ways to heal together. "It has been a very enriching experience," Phoebe said, and it has opened her eyes to African-American struggles ranging from social inequality to educational barriers.
During his presidential campaign, Barack Obama, whose own heritage includes white slaveholders, said Americans still have not worked through the complexities of racial relations and historically accumulated pain. "We have no choice if we are to continue on the path of a more perfect union," he said March 19, 2008.
Potter said Obama's election has opened up opportunities for more frank conversations about slavery in the mainstream media than ever before and encouraged a conversation that "was not allowed at all 10 years ago." And, although CTTT participants are few, "the number is growing," she said. "Something is happening."
Africa News Report
United States
Read latest news and features from United States : business, politics, culture, life & style, entertainment and sports