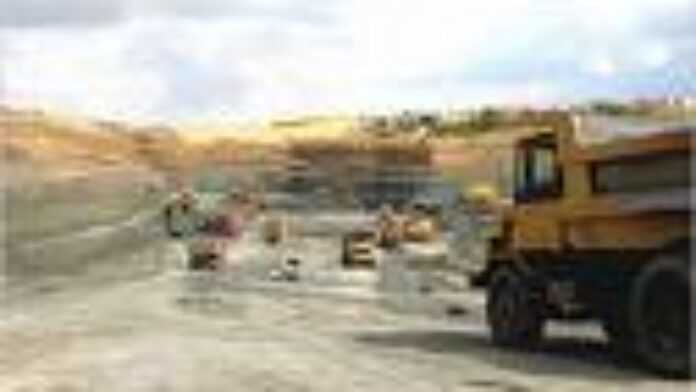 Mineral-rich countries in Africa enjoyed a mining boom between 2002 and 2007 as metal and oil prices nearly tripled. Companies competed furiously for new mines to meet growing world demand. As a result, African nations found themselves in a much stronger bargaining position with foreign investors, who previously were able to demand — and get — huge breaks before they would invest.
But since then, amidst a global economic downturn, world metals and oil prices have fallen substantially and investors are in retreat. African governments are finding that they are less able to negotiate with the mining companies, a group of UK-based non-governmental organizations (NGOs) warns in Breaking the Curse, a March report on mining operations in Africa. Zambia, for example, had hoped to impose windfall profit taxes on copper mining to pay for building its infrastructure. It shelved those plans after copper prices plunged from $9,000 to $3,000 a tonne.
Africa has traditionally drawn little benefit from its mineral wealth. Mining and oil profits have long gone abroad or been squandered. But the emergence of more democratic and accountable governments, along with agitation by communities and civil society groups concerned about environmental pollution and compensation for people displaced by mining operations, has helped to better use mining to benefit development.
"Mines are a public resource and the negotiations between countries and companies should be transparent, accessible and easily understandable by citizens," Ibrahim Aidara, the West Africa extractive industry programme coordinator for the UK-based non-governmental group Oxfam, told Africa Renewal magazine. Few countries have regulations to reduce the impact of mining on communities and, where environmental and compensation laws are in place, they are rarely enforced, Mr. Aidara says. So companies spend very little to make good on damage to communities or on post-mining clean-up. Nor do governments have adequate procedures for reinvesting monies from mining into development programmes.
Annual levies
But now, despite the recent drop in world mineral prices, some governments are doing just that. In Tanzania, for example, gold- and diamond-mining investors often got tax breaks for up to 20 years. Mining accounted for nearly half of Tanzania's exports but the total taxes paid by all the mining companies combined amounted to less than the tax paid by a single local company, Tanzania Breweries.
So, Tanzania set up an 11-member committee of government officials, mining experts and civil society representatives to look at making mining contracts work better for all. Following its recommendations, mining companies AngloGold, Barrick and Resolute agreed to pay annual levies equivalent to US$200,000 directly to local governments where their mines are located. Another $125,000 would be paid each year to an "empowerment fund" to pay for national development projects.
Fighting poverty
But better contracts alone may not be enough to ensure that citizens of resource-rich countries benefit from their natural wealth. Corruption and a lack of transparency in mining contracts and of clear laws on how to distribute the revenues can also stifle the developmental impact, experts say.
Burkina Faso's former Minister of Economy and Finance Jean-Baptiste Compaoré agrees. But he adds that countries like his are taking steps to avoid such pitfalls. Burkina Faso has recently joined the Extractive Industries Transparency Initiative (EITI). Launched in 2002 by the UK prime minister, the initiative requires members to publish all data on revenues from mining and oil operations. This, he hopes, will "maximize the positive development of the mining sector on growth and the fight against poverty."
Renogotiating war contracts
Transparency is especially difficult in countries coming out of war. In 2007, in the Democratic Republic of the Congo, a coalition of more than 100 international and local NGOs demanded that the newly elected government "renegotiate, revoke, or cancel" disadvantageous mining contracts that had been signed during the war or under the transitional government that was in power from 2002 to 2006. The NGOs claimed that three of the largest contracts approved by the transitional government had "collectively signed away over 70 per cent of the government's most valuable copper and cobalt reserves to international companies."
An inter-ministerial commission was set up to examine more than 60 mining contracts. It finished its work in October 2007 but its results were only published in March 2008, following heavy lobbying by the NGOs. The commission recommended that all the reviewed contracts be renegotiated to increase the government's stake in the mines — and the state's share of earnings. But, the NGOs say, issues such as environmental degradation, compensation for people affected by mining operations and post-mine recovery concerns were not addressed.
Revision of laws
In Liberia, the government completed a review of major mining contracts in early 2009, including one with the iron-mining company Arcelor Mittal of India. The revised contract removed clauses exempting the company from Liberian environmental and human rights law, removed certain tax holidays and enforced compensation and property rights for people living in areas affected by the mines.
Improving the income Africa gets from its mineral resources will require not only greater transparency, but also improved planning for using the monies and better partnerships among companies, governments and communities, experts say.
In Burkina Faso, gold-mining companies such as Cluff Mining of the UK, the Australian conglomerate Metal Mass and the Canadian-owned Société d'exploitation minière d'Afrique de l'Ouest (Semafo) are already helping the country channel revenues from natural resources to local populations. Semafo is working with the UN Development Programme, NGOs and local communities, on a sustainable development plan. Near its Mana gold mine, in the western part of the country, it is also building two villages of 425 houses, with meeting rooms for young people and women; places of worship; schools; wells and roads.
This gives reason for optimism that Africa will come out of the current price decline much stronger than it did in previous cycles. "Resource-rich countries have been using their windfall profits to scale up outlays on infrastructure and social services, and they've also been saving a lot more than in previous episodes," says Abdoulaye Bio-Tchane, president of the West Africa Development Bank.
Ms. Mary Kimani is a writer for United Nations Africa Renewal magazine.
Africa Renewal
Africa Renewal magazine, published by the United Nations, examines Africa's development, achievements and challenges. It provides expert analysis and on-the-spot reporting to show how policies affect Africa's people.