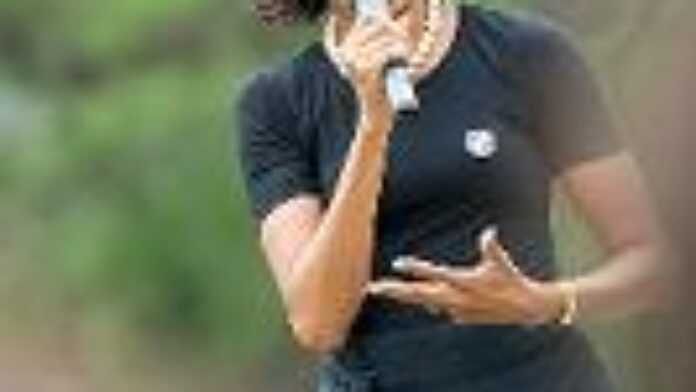 The role of first lady is arguably the most powerful and influential nonelected, nonappointed position in the White House. However, despite having a large staff, and one of the most premiere pieces of real estate, the White House, as her office, the first lady has no formal job description and the U.S. Constitution makes no mention of the role of the commander in chief's spouse.
Presidential spouses have traditionally been expected to be the country's social hostess, working to organize White House functions and diplomatic events. In recent years, however, first ladies have taken a more public role in developing policy and pursuing their own initiatives.
An accomplished lawyer, former hospital administrator and self-appointed "mom-in-chief," Michelle Obama serves as a role model for many modern women trying to balance work and family life, as she works to move discussion beyond her wardrobe to engaging the American public on important issues.
encouraging people to serve
Most recently, Michelle Obama has harnessed her role as first lady to encourage Americans to give back through volunteerism. On June 22 in San Francisco she launched United We Serve, an initiative by the Obama administration that the first lady described as "a nationwide effort calling on all Americans to make service a part of their daily lives."
"It's been said that our true calling in life is where our hearts' greatest gladness meets the world's deepest need," she said, acknowledging the increasing demand for volunteerism during this time of economic recession.
"This new administration doesn't view service as separate from our national priorities, or in addition to our national priorities. We see it as the key to achieving our national priorities," she continued. "We believe that the only way to build that new foundation for our economy is to establish a new role for service in this country."
Tools
Obama said she approaches volunteerism and citizen activism "with the knowledge that ordinary people can achieve extraordinary things when given the proper tools."
Those tools include this Web site, where Americans can find resources on how to begin their own volunteer project or volunteer for ongoing efforts. The United We Serve projects focus on four areas in which President Obama and the first lady believe everyone can have an impact: energy and the environment, health care, education and community renewal.
"Service has been my life's work in many ways, and it's near and dear to my heart," Michelle Obama said. "There's a feeling that you get when you help someone achieve their goals: the fulfillment of putting your faith into action and feeling that you're a part of something that's bigger than yourself and doing your part for the greater good."
Within one week of the initiative's launch, Michelle Obama has helped construct a school playground and pack 15,000 backpacks for the children of America's service members to take with them to summer camp. The United We Serve program will run through the National Day of Service and Remembrance on September 11.
"She understands that nothing is more powerful than when you enlist the skill and talent and passion of the American people on behalf of helping others," President Obama said. "She's been doing that all her life, and she's doing just a great job as First Lady in making that happen."
Africa News Report
Africa News Report is a specialist information dossier dedicated to providing news information and analysis from a diplomatic and political perspective. Topics covered include some of the most pressing health, economic, political and social issues. Besides bringing its multi-facetted news, views and analysis to the fore, Africa News Report seeks to highlight the United States' policies and positions on diverse issues affecting the African continent.