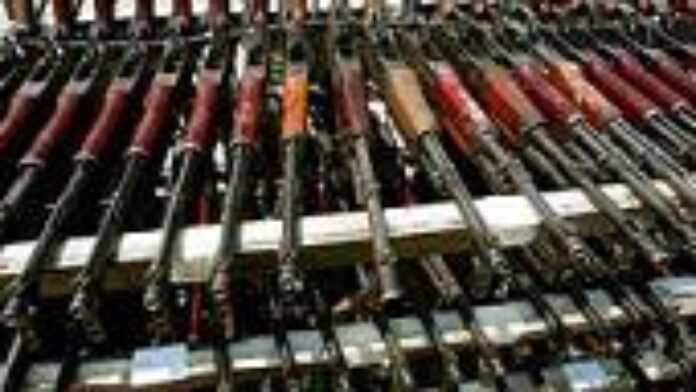 South Africa's ruling party- ANC MP on Wednesday called for the Democratic Alliance's David Maynier to be removed from Parliament's portfolio committee on defence over his allegations that South Africa is selling arms to so-called rogue states, including Zimbabwe.
Reports today say Stella Ndabeni of the ANC moved a motion wanting to know how Maynier obtained information of alleged arms sales to Libya and Venezuela, and of plans to sell sniper rifles to Syria and ammunition to Zimbabwe.
Maynier refused to reveal his sources and said much of the information had been corroborated by Justice Minister Jeff Radebe, who chairs the watchdog National Conventional Arms Control Committee (NCCAC).
Furthermore, he said, as an MP he was protected by the principle of
parliamentary privilege. "I believe it is the NCACC which must be in the dock, not me," Maynier is quoted saying.
But Ndabeni said unless he got the information directly from the NCCAC, it had to be stolen. "I insist that how he got the information was illegal and I call for the withdrawal of the honourable member from this committee… I call on members to support me so that we can get legal advice," she said.
In Zimbabwe authorities are silent on the issue. Defence Minister Emmerson Mnangagwa yesterday refused to comment on the issue saying
"am not a South African MP, that parliament would answer your questions"
Early this month Maynier claimed that the committee approved the sale
of thousands of multiple grenade launchers and assault rifles to Venezuela, multiple grenade launchers to Syria and glide bombs that can be used to deliver nuclear weapons to Libya.
Committee chair Mnyameli Booi said he had sought legal advice on whether Maynier was indeed covered by parliamentary privilege but the issue was blurred. Booi repeatedly pressed Maynier to give the committee the means to test the information. Maynier retorted: "On August 6, the minister did not deny the allegations and that's my response to that" reports say.
The claims were first made by made by Democratic Alliance (DA) members of parliament who were in Zimbabwe last week on a three day fact finding mission. They said South Africa's National Arms Control Committee had approved a number of 'dodgy deals' with Iran, Syria, North Korea, Libya,
Venezuela and Zimbabwe. This has been received with outrage.