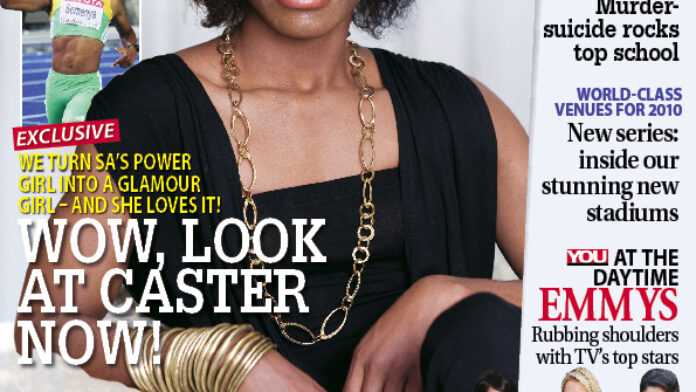 Questions surrounding the sexual morphological contradictions of Caster Semenya, it seems, belong to the bygone era, at least for now. If the South African 800 metre world record holder were to compete in an athletic event today, not a single person would doubt her femininity. The 18 year old champion has appeared in YOU, a South African Magazine, sporting a new extreme feminine look. Her new look has issued the verdict well ahead of The International Association of Athletics Federations' (IAAF) femininity test results. Miss Caster Semenya is all woman.
"Wow, look at caster now!" reads the cover of the South African fashion and people magazine that has devoted four of its pages to show the new Miss Semenya. Mesmerised by her unbelievable makeover, some have compared Caster Semenya's new appearance to that of the Williams sisters, of international tennis fame, and former French 400 metre world champion, Marie-Jose Perec.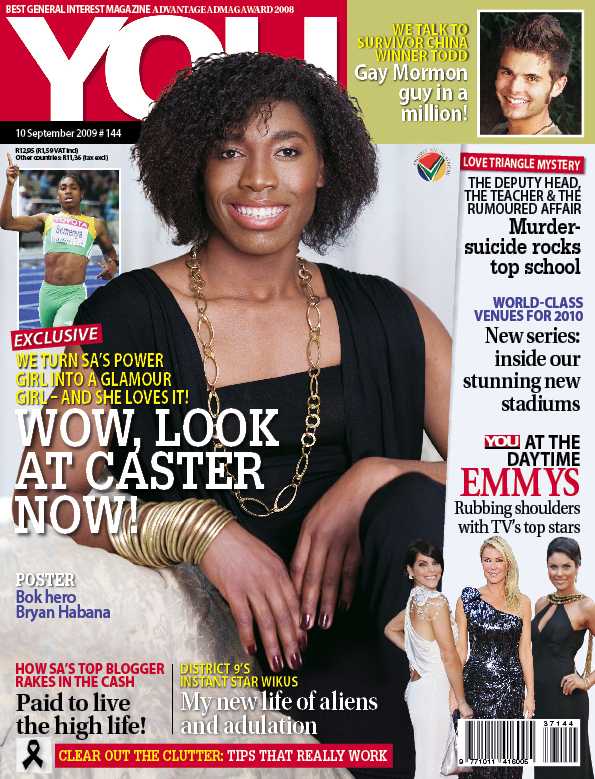 She has not undergone a sex change, but just like the controversy she caused when she coolly strutted out of the Berlin stadium waving the South African flag after winning the 800 metre race, Caster Semenya's makeover has not gone down well with all South Africans. While sympathisers have said that she has only improved her look as a woman, some think that Miss Semenya has sold her birthright cheaply, arguing that she has succumbed to society's view of what the female gender should look like, without a fight.
A fight, however, would have proved perilous for the young athlete's focus. "She is afterall an athlete more than anything else" and faced with harsh criticisms from her fellow runners, "Miss Semenya had no choice but to prove her womanhood and move on," says Sakhile Modise, our South African correspondent. "I'd like to dress up more often and wear dresses but I never get the chance," Miss Caster Semenya told YOU magazine.
Is this new makeover a political statement to counter the Caster controversy? Or to prove that society's determination of sex is only clothes-deep? Caster Semenya, whose family indicated that her physical appearance had raised eyebrows as a child compounded by the fact that she enjoyed playing football, told the magazine that she had never bought her own clothes and that her mother "buys them for me, but now that I know I can look like this I'd like to dress like this more often." "She wants to stay feminine, steer clear of controversies and concentrate on her passion," Sakhile continued.
Indeed, her fellow athletes were not only disappointed by their own performances but also shocked that an 18 year old without any prior senior level international experience could simply walk past them with cheeky ease as they run with all their might. After the after the 800 m final, Elisa Cusma, an Italian athelete, interviewed by Rai TV said "I think she is clearly a man". And it was not the first time Semenya had suffered from such remarks, "She was tested in South Africa before taking part in the championships and it seemed she did not have many friends within the South African delegation," remembers Tapesar Cavin, a Mauritian journalist covering the world championships for Canal France International (CFI). "After interviewing her, I can say that her build is quite impressive. Her voice is also quite masculine. But this is not enough to determine her sex."
Caster Semenya has shown a mental force worthy of a hero. Comments about her controversial appearance led psychologists to posit the negative psychological impact the bad press could have on the young woman. But against all odds, Miss Semenya says she sees "it all as a joke, it doesn't upset me. God made me the way I am and I accept myself," she said. Concerned by the whole affair following the controversy last August, Pierre Weiss, secretary general of the IAAF, said "there is no evidence to prove she is not a woman, it is probably only visual". And he is right. "The attention Caster has received since the latest edition of YOU magazine hit news stands across South Africa is simply phenomenal," says Sakhile Modise. "You can tell a marked change in attitudes (…) it is hence not only a question of supporting a fellow South African, it is now the story of a once battered woman."
Santhi Soundarajan an Indian 800 metre runner, was deprived of a silver medal she won during the Asian Games in Doha in 2006 when she failed her femininity test. This led her, later on, to attempt suicide before taking up a coaching career. Maria Mutola of Mozambique and Palema Jelimo Kenya also came under the suspicious light. "It's because they looked like men," says Kenyan journalist Bernard Otieno, a member of CFI team in Berlin. "However, Maria Mutola and Palema Jelimo were never made to undergo femininity tests. Jelimo is actually married."
From the look of things, the new all-feminine Caster Semenya can run in high heels and still beat Elisa Cusma, her Italian counterpart who said the South African was "clearly a man".