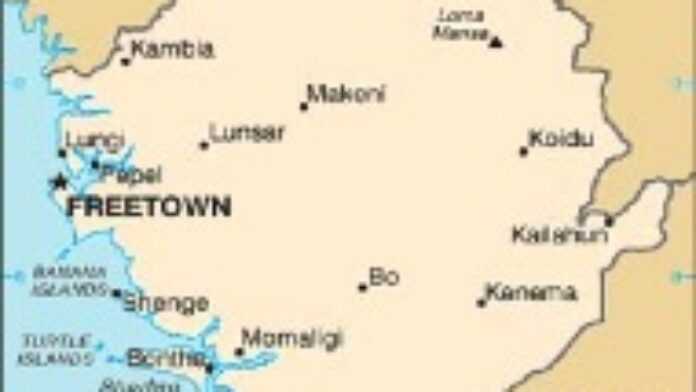 Leaders of the major warring faction during the Sierra Leonean civil war have been handed lengthy jail sentences, bringing a seven year trial of the perpetrators of the ethnic/resource-driven conflict to an end. A feeling of international justice is expressed all around the capital city of Freetown as the UN-backed court closed the books on the Sierra Leonean war.
Leaders of the Revolutionary United Front leaders (RUF), Issa Sesay, Maurice Kallon and Augustine Gbao will do time for war crimes and crimes against humanity such as, unlawful killing, physical violence, mental suffering, looting, burning, terrorizing, and punishing. Thousands were killed, mutilated and raped in the war, which lasted from 1991 until 2002. In April 2009, the Trial Chamber sentenced Sesay to 52 years imprisonment. Kallon received a term of 40 years, and Gbao a sentence of 25 years. The Appeals Chamber upheld the total terms of imprisonment for each of the three, although the sentences for some counts were revised.
"The Special Court Appeals Chamber, by a majority, has upheld the convictions of three former leaders of Sierra Leone's Revolutionary United Front (RUF). Justice Renate Winter of Austria delivered the majority judgment, dismissing a total of 96 Defense grounds of appeal. The Appeals Chamber judgment, read out today in Freetown, upholds first-ever convictions by an international tribunal for forced marriage as a crime against humanity, and for attacks against United Nations peacekeepers. The Chamber also upheld convictions for the recruitment and use of child soldiers," read the press release by the Special Court for Sierra Leone, Outreach and Public Affairs Office.
Peace has returned to the naturally beautiful west African country, but the wounds are deep and rebuilding the nation will take many years. The Truth and Reconciliation Commission, brought some hidden atrocities to the surface, and those responsible have been brought to justice. The court's closure has left many Sierra Leoneans with a mixed experience of international justice.
When it was first formed, the RUF put forward the slogan, "No More Slaves, No More Masters. Power and Wealth to the People." While its goal was clearly to overthrow the government of Sierra Leone, the RUF gave little indication of what sort of government would replace it. According to reports, the group did not advocate Marxism or any similar leftist ideology, nor did it advocate extreme nationalism or Fascism. It also did not claim to be a force fighting for a certain ethnic group or region. At one point, during ongoing peace negotiations in 1995, RUF published a pamphlet entitled "Footpaths to Democracy: Toward a New Sierra Leone", which contained some rhetoric references to social justice and pan-Africanism.
At first, the RUF was popular with Sierra Leoneans, many of whom resented a Freetown elite seen as corrupt and looked forward to promised free education, health care and equitable sharing of diamond revenues. However, the RUF developed a reputation internationally for enormous cruelty during its decade-long struggle. They reported to be backed by former Liberian president; Mr. Charles Taylor, who is currently on trial in The Hague. The UN-backed court allegedly spent millions of dollars prosecuting the suspects from all sides. Nevertheless, critics have said the money should have been spent on development projects. The RUF later developed into a political party, which existed until 2007.
Even though Sierra Leone has experienced substantial growth in recent years, it still remains at the bottom of UN's league for human development.