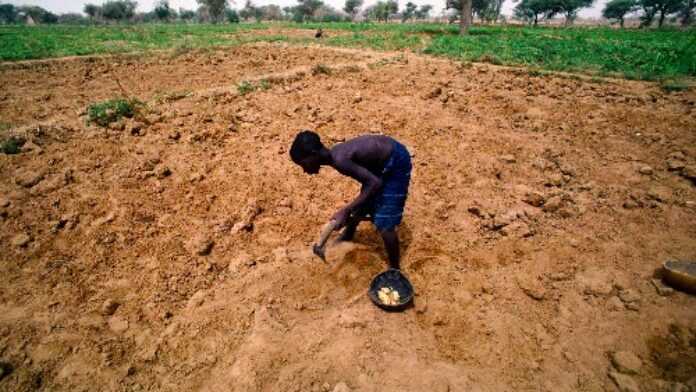 "For the first time in history," says Ethiopian Prime Minister Meles Zenawi, "Africa will field a single negotiating team empowered to negotiate on behalf of all member states of the African Union…. Africa's interest and position will not be muffled."
At a late August meeting of African leaders that chose Mr. Meles to head the delegation, many expressed a growing sense of urgency over the mounting evidence that climate change is already affecting the lives of millions. Extreme weather, which scientists regard as a sign of climate change, has been especially dramatic in recent months, with parts of East Africa ravaged by severe drought and several nations in West Africa hit by torrential downpours and devastating floods.
Time to engage
"This is the time for Africa to aggressively engage" in the negotiations on climate change, Jean Ping, chairperson of the African Union Commission, told the summit. With agricultural productivity jeopardized, water supplies at risk and poverty likely to increase further, the costs of inaction are unacceptable, Mr. Ping said. "Africa's development aspirations are at stake unless urgent steps are taken to address the problem of climate change."
According to World Bank projections released in mid-September, Africans' annual per capita consumption may decline by as much as 4–5 per cent as climates shift because of rising global temperatures and disrupt local economies. By 2030 some 90 million more people in Africa will be exposed to malaria, as conditions become more favourable for the mosquitoes that carry the disease. By 2080, as much as 9–20 per cent of Africa's arable land could become much less suitable for farming.
African governments have long been aware of such trends. Many were early signatories to the 1992 UN Framework Convention on Climate Change and the 1997 Kyoto Protocol, which set limits on pollution emissions. But as an analysis presented to the African Union summit in August noted, Africa's previous negotiating efforts were marked by "dismal coordination" and the absence of "visible continent-wide political leadership."
Speaking at a 22 September UN General Assembly summit on climate change, Rwandan President Paul Kagame observed that one reason some African governments "more or less stood on the periphery" of the global debate was an attitude that "climate change is an industrial problem, born in the West and destined to be solved by these very nations." That standpoint must be abandoned, he argued, since climate change affects everyone, and all nations must act.
'A single voice'
According to Ibrahim Assane Mayaki, the chief executive officer of the Secretariat of the New Partnership for Africa's Development (NEPAD), the African Union's development programme, African countries are increasingly coming together, whether at international talks on the global economic crisis or on issues of climate change. "In Copenhagen, Africa will have a single voice," he told Africa Renewal. "We'll have a unique coordinator for the Africa Group. We'll have a unique negotiating strategy."
Elements of Africa's position have already been presented in the lead-up to the Copenhagen meeting, which many hope will result in a new agreement for limiting greenhouse gas emissions following the expiration of the Kyoto Protocol in 2012.
A number of Africa's concerns involve "adaptation" — ways to help countries cope with threatened coastal areas, changes in rainfall and other effects of shifting climate patterns. To adequately support such efforts, the African Union estimates that developing countries overall will need $67 bn annually by 2020.
On "mitigation" — reducing emissions of greenhouse gases — Africa expects that the industrial and industrializing countries that produce the vast bulk of such gases will agree to drastically reduce their output. African countries will themselves pledge to shift to cleaner production methods, but to do so they need new technology, more money and other help. In addition, Prime Minister Meles told a joint Africa-donor forum in Ethiopia in early September, "We want to keep our forests intact," and replant where forests have degraded (since trees absorb the main greenhouse gas, carbon dioxide).
Although the forum was an ideal encounter for asking donors to give more, Africa's lead climate negotiator emphasized global action ahead of financing. "Our interest is not to claim compensation for climate change and its damages," Mr. Meles explained. "Our interest is to prevent that from happening."

Mr. Ernest Harsch writes for United Nations Africa Renewal magazine.
Africa Renewal
Africa Renewal magazine, published by the United Nations, examines Africa's development, achievements and challenges. It provides expert analysis and on-the-spot reporting to show how policies affect Africa's people.