After the catwalk comes the silver screen. Liya Kebede depicts Waris Dirie in Desert Flower, a biopic directed by Sherry Hormann about the former Somali supermodel and anti female genital mutilation campaigner. The film marks a promising debut for Liya Kebede, an Ethiopian supermodel. Beautiful, talented and altruistic: three words that describe Liya Kebede to perfection.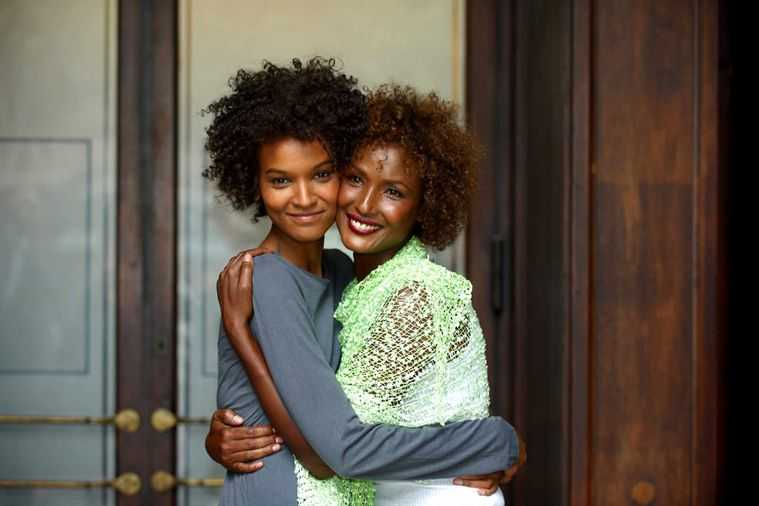 Although this is her third appearance on the silver screen, it is undoubtedly the first big picture for the 32 year-old actress and supermodel, Liya Kebede. She is the main character in Desert Flower, a film by Sherry Hormann based on the life of Waris Dirie, a former Somali supermodel, who, after enduring the pain of excision and forced marriage, escaped to freedom and later rose to fame in the fashion industry. Impassioned in the fight against female genital mutilation, Waris has taken advantage of her fame to condemn the horrendous practice.
Depicting Waris Dirie in the desert flower, Liya Kebede, a natural born actress, captures the very essence of the strong female character. Kebede, married since 2000 to fellow Ethiopian, Kassy Kebede, head of a hedge fund, and mother of two — Suhul, born in 2001, and Raee, a little girl who was born in 2005. "Her almost blinding courage was an inspiration, and I wanted to be part of the story of a woman who refused to become a victim by taking her destiny firmly in hand," says she, speaking of Waris Dirie.
Serving other mothers
Liya Kebede had heard about excision in Ethiopia where she was born. From afar. "I discovered what it really was for the first time when I read her book during the audition for the leading role. It was very touching… I found it both shocking and funny," says she. "I identified with her," adds the model cum actress.
Alongside their careers in fashion, the two beautiful women have decided to devote themselves to the welfare of women. Liya Kebede, a Goodwill Ambassador for the World Health Organization's maternal and child health programme since March 2005, is also the founder of the Liya Kebede foundation. "Growing up in Africa surrounded by poverty makes us want to do something about it. That feeling never left me. When I arrived in America, it came as a surprise when I realized that women did not die during childbirth as is the case in my home country. I am an Ethiopian who gave birth in New York and I realized what it meant not being able to give birth in the best possible conditions."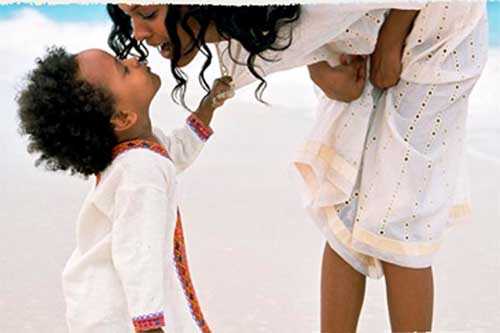 Lemlem, her handmade clothing line for women and children Lemlem, launched in 2007, also falls within the scope of participating in the improvement of the daily lives of her fellow women. Particularly in developing their skills. The project saw the involvement of traditional Ethiopian textile experts who once controlled the clothing industry. "Today, we don't wear those clothes as much as we did in the past, and as a result their commercial opportunities have weakened," says Liya Kebede. "They live in appalling conditions despite being extraordinary artists."
Liya has become a true sales representative for "Made in Ethiopia" textiles. "I am well positioned to help them export their products to the West. It gives them the economic independence needed to care for their families and educate their children. I hope to break this cycle of poverty while showing the West that Africans can deliver quality products on time. Thus encouraging them to invest in our continent and contribute to its development. This is a message of hope."
A Goodwill Ambassador, a sales rep and beauty icon, Liya Kebede, whose mother advised her not to wear make-up (an advise she adheres to off the catwalk), became the first black face of Estée Lauder. "I try not to see things that way because I think that the less attention the better. I would like for it to become something common. That we simply say a model signed a contract with a brand". The supermodel hopes the Black and White politics is brought to a screeching halt in the modeling industry, much sooner than later.
At 18, Liya Kedebe was spotted in Addis Ababa by a film director while attending the Guebre Mariam French high school. He put her in touch with a French agent. After graduating, she moved to Paris where her career in Fashion began. She later moved to New York where she now lives with her family.
Twice on the cover of Vogue, Face of Yves Saint Laurent, Tommy Hilfiger, Liya has modeled for some of the biggest names in fashion design. Just like Waris Dirie, her success is one of the rare examples that encourage young black women to take their chances in modeling, an industry that is often described as racist. "It is tough for everyone. It's not easy as a Black person to make it in an industry considered as a pretty tough environment for everyone else. But things are changing, a little, and I hope it continues."
Liya's wish-list is in overdrive as the film draws more and more people. With desert flower, she successfully takes on the challenge of depicting a living character. "It's intimidating because of the responsibility. The actor is under constant pressure because she wants the person to be satisfied. It's her life! But, above all else, this has been a great opportunity."
Liya hopes that her appearance in Sherry Hormann's film serves as a starting block for a full time career in film. "I really wanted to try the movie when I heard about it," says Liya Kebede. That dream became a reality when Waris Dirie's son took Liya for her mother as they watched DVD profiles of actresses who had auditioned for the leading role.
"I have been interested in cinema for the past 3 to 4 years," admits Liya. "I hope, with this film, to have more opportunities to explore the world of cinema. With Desert Flower, I believe I know what it means to be an actor. It was both a wonderful and learning experience. I would like to continue in this direction. I can not wait to see people's reactions."
And people's reactions have been good! The beautiful Liya should have no doubts about it.
Women
Read latest news and features for Women: feminism, Africans, Amazons, emancipation, excision, infibulation, liberation, Senegalese, Ivorian, Beninese, Cameroonian, Gabonese, Malian, Algerian, Moroccan.