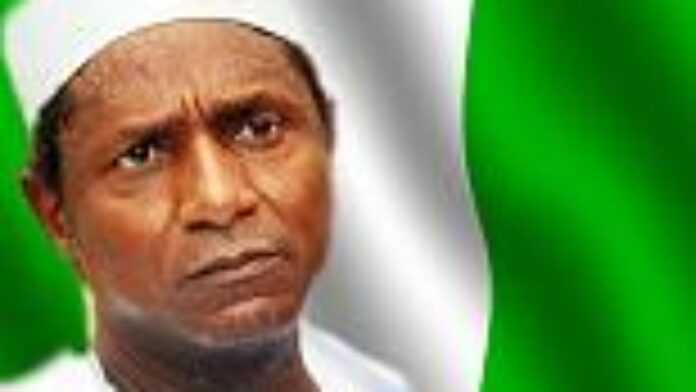 United States President, Barack Obama has showered praise on the late Nigerian President, Umaru Yar'Adua for his efforts towards peace. Yar'Adua was pronounced dead yesterday night after a long bout of severe pericarditis, an inflammation of the sac surrounding the heart.
Mr Yar'Adua who spent a substantial part of his tenure in medical care had undergone several treatments in Saudi Arabia and Germany, which left a power vacuum in Nigeria and affected the country's political environment. Presidential Spokesman, Olusegun Adeniyi announced his death, saying Mr Yar'Adua died at his residence with his wife, Turai Yar'Adua, by his side.
As condolences pour in from national and continental leaders, the American President, Barrack Obama described Mr Yaradua, late president of the most populous black nation on earth, as a man of "profound personal decency and integrity".
"President Yar'Adua worked to promote peace and stability in Africa through his support of Nigerian peacekeeping efforts as well as his strong criticism of undemocratic actions in the region," Obama said in a statement.
The US President continues: "Tonight, we remember and honour President Yar'Adua's profound personal decency and integrity, his deep commitment to public service, and his passionate belief in the vast potential and bright future of Nigeria's 150 million people.
"He was committed to creating lasting peace and prosperity within Nigeria's own borders, and continuing that work will be an important part of honouring his legacy," said Mr Obama.
Mr Yar'Adua made an enormous effort in bringing calm to the Niger-Delta by initiating a strategy to bring peace and an end to the tumultuous anarchy ravaging the oil-rich region, initiating gun amnesty and rehabilitating militants. But his absence in power threatened the peace efforts he devotedly built.
Recognising this, the Movement for the Emancipation of Niger-Delta, MEND, who were responsible for several attacks on oil pipelines and kidnappings in the Niger-Delta said: "MEND considers the late president a genuine peacemaker whose initiatives, humility and respect began to bring confidence to the peace process. His death may leave a vacuum that may not be filled."
Born in 1951 into the popular Yar'Adua dynasty in Kastina State, of Nigeria, he was recognised as the first civilian president of the Federal Republic of Nigeria to have democratically attained power from another civilian president. A university graduate and a former professor of Chemistry, he won in a controversial election in 2007 and did acknowledge that the election wasn't democratic enough as expected. A comment he was praised for.
A soft-spoken and gentle leader, he was survived by his wife and nine children.
Tanzanian President Jakaya Kikwete said: "It's very sad, it's tragic, he is so young, he died too early. We join the people of Nigeria in mourning his death. Nigeria is strong enough, they will weather the storm."
Zimbabwean Prime Minister Morgan Tsvangirai also said:"It's a great loss for Nigeria at this time, he has been ill for some time and it's unfortunate that this is what has happened, I hope it provides the stability for the country to move forward."
While Kenyan President, Mwai Kibaki maintained that: "Although Yar'Adua has sadly left us, he has bequeathed upon the people of Nigeria and Africa at large a rich legacy of integrity."
The acting President, Goodluck Jonathan has now been officially installed as the new president of Nigeria.
Mr Yar'Adua is expected to be buried today according to Muslim rights.