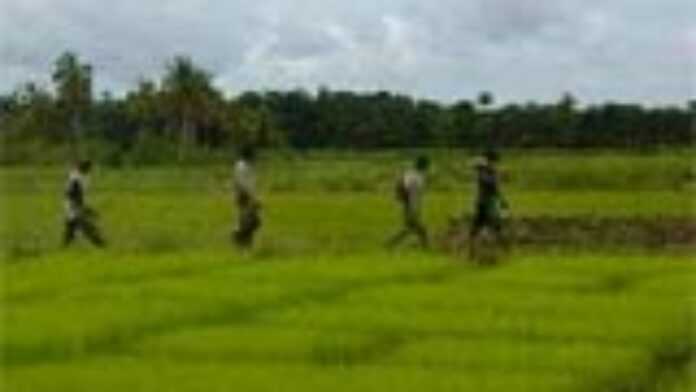 A second Green Revolution is starting to take root in Africa, says Cameroonian-born agriculture specialist A. Namanga Ngongi. And that is important because agriculture is the largest private sector occupation in Africa and could fuel economic growth and development across the continent.
Speaking to the Symposium on Global Agriculture and Food Security May 20 in Washington, Ngongi, who is president of Alliance for a Green Revolution in Africa, said African farmers must take a private sector and collaborative approach to their vocation, working with nongovernmental organizations, governments and banks to help solve their problems — which often involve scarcity of credit.
[The introduction of high-yielding varieties of seeds after 1965 and the increased use of fertilizers and irrigation that provided a dramatic increase in production in developing nations are known collectively as the Green Revolution.]
Ngongi, who earned a doctorate from Cornell University, said: "We all know how risk-averse the banks are to lend to agriculture. Here, if I wanted to start a farm in America, I am sure I would find a bank that would have some support from the U.S. Department of Agriculture that would give me credit at a lower rate" than what is available commercially.
Ngongi said commercial credit available for agriculture in Africa is not in proportion to its importance in the economy. "In Africa, 2 to 3 percent of commercial credit goes to agriculture … which occupies 70–75 percent of the population and generates something like 40 percent of the gross domestic product in most countries and contributes 50–60 percent of the export earnings of most countries," he said.
To help change that, Ngongi said, his organization has partnered with the National Microfinance Bank in Tanzania, Equity Bank in Kenya and Standard Bank in Mozambique, Tanzania, Uganda and Ghana, to put together millions of dollars of funding that could be leveraged as credit from those banks for use by farmers. That program, he said, has brought about a new way of thinking and of doing business on the part of the participatory banks. To illustrate his point, he told of a woman farmer in Kenya who told him that, with the onset of that program, for the first time she could enter a bank as a farmer in Kenya and expect to be served.
Ngongi also credited telephone banking with helping pave the way for progress.
"Telephoning has reduced the cost of the administration of credit to the point where the banks added 2 million new customers and only added 100 new staff members" to service that expanded customer base. "They were able to reduce interest rates from 18 percent to 12 percent," and that 12 percent, he said, is now dropping to 9 percent in Kenya. "It can be done in many other countries," if the banks and governments accept and implement certain reforms, he said.
In addition to improvement on the credit front, Ngongi said, Africans now are seizing new opportunities in the areas of seeds, soils and markets — all working in concert with realistic farming policies that increasingly are being adopted by African governments.
"We all know that you need good seed. You need to plant good seed" if you are going to prosper as a farmer, no matter the location and size of the farms, he said.
Small African seed companies are developing new-high yield seeds and making a difference, Ngongi said. His organization, he added, supports 32 African seed companies that are now producing 15,000 metric tons of seeds annually.
He cited the example of the Faso Kaba Seed Company in Mali, which started with nine tons of seed four years ago. Last year, it produced 300 tons of high-quality seed that was made available to farmers in Mali, both small and large.
Small farms, like the larger farms, can produce bumper crops, he said, when all things are equal. If both small and large farmers have equal access to good seeds and technology, there is no reason why the small farmer cannot produce just as much as the large farmer per hectare, he added.
On fertilizer use, Ngongi said African farmers average nine kilograms per hectare. In the United States it is 100 to 150 kilograms per hectare and 300 kilograms in China, he explained. Using micro-dose technology, he said, African farmers can use 20–30 percent of what other farmers worldwide use and still harvest as good a crop because of the richness of the soil and the often-abundant rainfall.
What African farmers urgently need are working markets where farm crops can be bought and sold at rational and realistic private sector, market prices, he said. For years, he explained, many African governments imposed dysfunctional fixed-price markets in which farmers could not sell their crops at a profit. For that reason, he said, they often chose not to grow food crops because they would have to sell their harvest at a loss. This often sparked food shortages.
To illustrate his point, he said Uganda is the second-largest worldwide producer of bananas, but ranks 75th on the list of commercial banana exporters by volume.
"Why?" he asked rhetorically. "Most of the crop is lost because they cannot keep it. They cannot process it. They cannot transport it. They cannot package it. They cannot add value to it."
While many of those issues still need to be addressed, he said, his organization has made progress recently by working with farmers in Uganda and Kenya to triple their income by selling bananas by the kilo and not by the bunch.
What is also needed, he said, is close coordination between farmers and African leaders to change African agriculture policies so they make more sense for everyone. "You can develop policies at the ground level, people can come with their ideas of what to do — we all know what to do — but the people who can drive the change are the people who are leading the countries — the presidents."
African governments must create the conditions to allow agriculture to thrive, he said, and that, in turn, will fuel economic growth and development across the continent — and feed the continent.
Africa News Report
Africa News Report is a specialist information dossier dedicated to providing news information and analysis from a diplomatic and political perspective. Topics covered include some of the most pressing health, economic, political and social issues. Besides bringing its multi-facetted news, views and analysis to the fore, Africa News Report seeks to highlight the United States' policies and positions on diverse issues affecting the African continent.