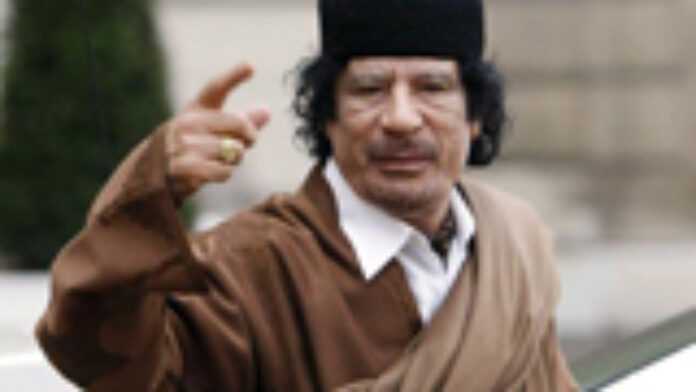 A Swiss businessman Max Göldi who had been held in a Libyan jail since July 2008, following the arrest of Hannibal, son of Muammar Gaddafi, was released on Monday in Tripoli. Meanwhile, the Libyan leader has threatened to open the borders of his country to Europe bound African migrants if the European Community does not fund a project to secure his country's borders.
The "kidnapping" of Max Göldi, a Swiss businessman, has been brought to an end in Tripoli, the Libyan capital. Held in Tripoli in connection with a case involving Hannibal Gaddafi in Switzerland, Mr. Göldi landed at the Zurich airport in his home country after spending nearly two years in captivity.
UNHCR offices closed
Gaddafi Wednesday decided to close the office of the United Nations High Commissioner for Refugees and expel its 26 employees. This is seen as a blow to the 9,000 refugees, mostly made up of Palestinians, who were under the care of the international agency. A recent friendship treaty signed between Italy's Silvio Berlusconi and Muammar Gaddafi included an immigration agreement which saw some 850 migrants sent back to Libya. According to human rights organizations, deported immigrants from Europe are usually thrown into Libyan jails or sent back to their countries of origin; in violation of the Geneva Convention which prohibits returning immigrants to a country where their lives may be in danger.
In July 2008, Max Göldi and his compatriot Rachid Hamdani were arrested in Tripoli in retaliation for the arrest of Hannibal Gaddafi, one of the sons of the Libyan leader Muammar Gaddafi, and his wife, a few days earlier in Geneva. The two were suspected of maltreating their servants.
The two Swiss men were subsequently convicted of illegal immigration and economic activities. After an appeal, only Rachid Hamdani was cleared and allowed to return to Switzerland in February.
Described as "kidnapping" by Bern, the case soured relations between Switzerland and Libya profoundly, causing both sides to apply visa restrictions.
The release of Max Göldi follows an agreement, — spearheaded by the European Union (EU), negotiated through Spain and Germany, and signed by both countries on Sunday, — that seeks to pave the way for the normalization of relations.
And on this issue, the EU seems to have once again yielded to the demands of Muammar Gaddafi. Indeed, the Libyan leader agreed to release the Swiss businessman only after a constant ballet of European diplomats flew in and out of Tripoli, interspersed with acts of contrition from the Swiss authorities.
Gaddafi, after pushing a humiliation campaign against Switzerland, during which he called for the dismantling the Helvetic state, obtained a 1.5 million euro compensation from the Canton of Geneva for the publication of photos showing his son's arrest.
Co-signed by Spain and Germany as guarantors, Sunday's agreement also provides for the establishment of an international "court of arbitration" to launch investigations into the circumstances leading the arrest of Hannibal Gaddafi in Geneva.
This case is far from the being the only one in which the Libyan leader, once considered as a sponsor of international terrorism and declared persona non grata in Europe, is said to have used some kind of coercion to obtain his wishes.
Indeed, Muammar Gaddafi has threatened to open the "floodgates" of migration and allow the passage of thousands of immigrants into Europe if the community does not fund a project to secure his country's borders with Niger and Chad.
And whilst the European Commission is ready to put some 20 million euros on the table, Gaddafi has demanded 5 billion, knowing very well that Europe cannot afford to ignore Libya's role in helping to curb illegal immigration towards Europe.
Between one and two million potential illegal immigrants seeking to brave the Mediterranean into Europe are currently on Libyan soil.
European Union
Read latest news and features from European Union : business, politics, culture, life & style, entertainment and sports